MLA Format: Everything You Need to Know Here
Share to Google Classroom
Welcome to an overview of "What is MLA Format?" in relation to paper formatting. You'll find in-depth guidelines, examples, and visual samples to help you easily format your paper. This guide does not serve as a reference for MLA citation format.
For help determining the proper structure for citing, refer to the other guides on EasyBib.com. Here is another informative site which may help with further understanding of MLA citation format.
Guidelines for Formatting a Paper in MLA
Use white 8 ½  x 11" paper.
Make 1 inch margins on the top, bottom, and sides.
The first word in every paragraph should be indented one half inch.
Indent set-off or block quotations one half inch from the left margin.
Use any type of font that is easy to read, such as Times New Roman. Make sure that italics look different from the regular typeface.
Use 12-point size.
Double space the entire research paper, even the Works Cited page.
Leave one space after periods and other punctuation marks, unless your instructor tells you to leave two spaces.
These guidelines come from the MLA Style Center's web page "Formatting a Research Paper."
---
MLA Guide Overview
There are various sections in this guide. Each section provides an in-depth overview of the different components to keep in mind when developing an MLA paper.
This guide includes the following sections:
If you need more guidance, a website like EasyBib.com usually has guides and tools to help you out. There's also resources on other styles, like our guide on "APA reference page", otherwise known as a "References" page.
---
MLA Format Background
The Modern Language Association (MLA) is an organization responsible for developing MLA format. It was developed as a means for researchers, students, and scholars in the literature and language fields to uniformly format their papers and assignments. This uniform, or consistent, method to developing a paper or assignment allows for easy reading. Today, MLA is not only used in literature and language subject areas; many others have adopted it as well.
The Modern Language Association released the 9th and most current edition of their MLA Handbook in April 2021. The Handbook provides thorough instructions on citing, as well as guidelines for submitting work that adheres to the Modern Language Association's rules and standards. Although we're not affiliated with the MLA, our citation specialists bring you this thoughtful and informative guide on the format.
Looking for information about previous editions to the Handbook? Want to learn more about the origin of "What is MLA format?" Click here to learn about the previous editions to the Handbook.
Actually, are you looking for help on using another style? See how to cite an APA journal, learn to create an APA book citation, and more!
---
Formatting the Header in MLA
To create a header for your first page, follow these steps:
Begin one inch from the top of the first page and flush with the left margin.
Type your name, your instructor's name, the course name and number, and the date on separate lines, using double spaces between each.
Double space once more and center the title. Do NOT underline, bold, or type the title in all capital letters. Only italicize words that would normally be italicized in the text. Example: Character Development in The Great Gatsby
Do not place a period after the title or after any headings
Double space between the title and first lines of the text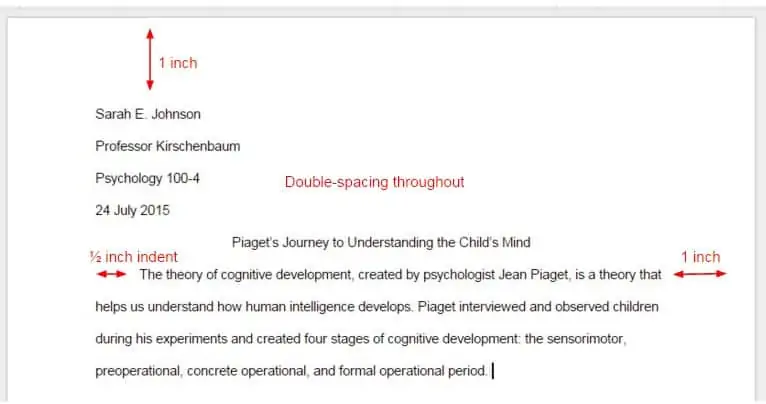 ---
General Paper Formatting
Paper Choice
While many professors, instructors, and publications allow electronic submission, some prefer printed, hard copies of papers. This section focuses on the type of paper to use for printed submission.
If you choose to print your paper, use white paper only. Do not use ivory, off-white, or any other shades or colors.
Choose a standard, high quality paper to print your project on. Do not use cardstock. It is not necessary to use resumé paper. Use typical, high quality printer or copy paper.
When it comes to size, 8 ½-by-11-inch paper is the recommended size. If you'd like to use a different size, ask your teacher prior to submission.
Use One-Inch Margins in MLA
Use one-inch margins around the entire page. The running head should be the only item seen in the one inch margin (see below for more on running heads).
Most word processing programs automatically default to using one inch margins. Check the page settings section of the program to locate the margin size.
Indenting Paragraphs in MLA
Indent the first word in every paragraph. Sentences should begin one half inch from the left margin.
It is not necessary to manually measure half an inch. Use the "tab" button on the keyboard to create a half inch space.
Double Space Paragraphs in MLA
MLA research paper format requires that the entire research paper or MLA format essay includes double-spaced lines. Double-spaced lines should be found in between the written body of the work, in the heading, and also on the MLA reference page.
While it may seem tempting to place a few extra lines between the heading, title, and beginning of the paper, lines should all be double spaced.
Font and Font Size in MLA
In an MLA paper, it is acceptable to use any font type that is easy to read. Many source types, such as books and articles, use fonts that are easy to read, so if you're seeking an appropriate font style, look at other sources for guidance. Two of the most commonly used fonts are Arial and Times New Roman.
It is important for the reader to be able to distinguish the difference between italicized and regular font, so if you choose a font style different than Arial or Times New Roman, make sure the difference between the two type styles is evident.
The use of a 12-point font size is recommended as this is the default size for many word processing programs. It is acceptable to use another standard size, such as 11-point or 11.5-point.
Binding
Some professors or instructors will provide guidance on how to secure hard copies of projects. If your instructor does not provide you with any expectations or guidance, a simple staple in the top left corner should suffice. If a stapler is not available, some instructors allow paper or binder clips.
Do not fold the top left corner down to secure the pages together. The page could easily unfold, causing a mess of papers. While binders and plastic holders are cute, in reality, they add bulk to a professor or instructor who may like to take the papers home for grading purposes. Keep the binding simple and clean. Staples work best, and binder and paper clips are the next best option.
As always, follow any instructions your professor or teacher may provide. The guidelines found here are simply recommendations.
---
MLA Heading & Title Page Instructions
The web page "Formatting a Research Paper" gives two options when it comes to creating the header for your project:
An MLA format heading can be placed at the top of the first page
A title page can grace the front of the assignment. If you choose to create a title page, keep in mind that there aren't any official title page or cover page guidelines in MLA format. See more information below.
If choosing option one, creating an MLA heading, you'll need to include four main components:
Your full name
Your instructor's name
The name and number of the course or class
The assignment's due date
The first item typed on the paper should be your full name.
Position your name one inch from the top and left margins of the page.
Add a double space beneath your name, and type the name of your instructor.
Below the professor or instructor's name should be a double space, followed by the name of the course, class, or section number (if available).
Below it, include another double space and add the assignment's due date (Day Month Year).
Here's an example:


The assignment's title should be placed below the due date, after a double space. Align the title so it sits in the center of the MLA format paper. The title should be written in standard lettering, without underlines, bold font, italicized font, or any quotation marks. Only include italics or quotation marks if your title includes the title of another source.
Here is an example of an MLA header for an MLA format essay, paper, or assignment:
---
Neal E. Bibdarsh
Professor Haujeemoto
English 201
2 Nov 2017
The Trials and Tribulations of Lincoln's Reciting of "The Gettysburg Address"
*Note: The quotation marks here are around the title of a speech included in the paper's title.
---
Title Page
Most research papers use a standard MLA format heading, like the one seen above. If your instructor requires you to create a standalone title page, ask him or her for specifications. MLA does not have specific instructions for developing an MLA title page. We recommend you use an MLA header for your project.
If your teacher or professor requires a standalone title page, but has not provided any guidance or specifications, here are a few suggestions from EasyBib.com and this MLA guide:
Center and double space all of the text on your page.
Place the name of your school at the top of the page.
Skip down to about the center of the page and type the title of your paper. Do not bold the title, italicize the entire title, place quotation marks around it, or type the title out in capital letters.
Use italics for the titles of any sources in the title of your paper. Example: An Analysis of Mythical Creatures in Harry Potter and the Goblet of Fire
The title should be written in title case form. Capitalize the:

first letter of the title
first letter of the last word
first letter of any adjectives, adverbs, nouns, pronouns, and verbs

If your paper has a subtitle, include on the next line below your title.
Skip down to the bottom third of the page and add your name, the the name of your instructor, the name/number of the course or class, and the assignment's due date on four separate lines.
Keep the font size at 12 pt., or a size close to it, to make it look professional.
Use the same font as the text of the paper. The Modern Language Association recommends any font that is easy to read and has a clear distinction between italics and standard font. Times New Roman and Arial are recommended, but many other fonts work as well.
Include a page number in the top right corner of the paper. For more information on how to style page numbers, check out the next section, "Running Head and Page Numbers."
We do not recommend

adding any images or cover art to the title page. 
Click additional information about essays to see an example of a formatted header.
You can either create a title page using the EasyBib Title Page creator or omit the title page completely and use a header.
---
Running Head & Page Numbers in MLA
A running head is a brief heading that is placed in the top right corner of every page in a project. The Modern Language Association Style Center (online) states that the running head consists of:
Last name of the paper's author
Page number
General tips to keep in mind:
The running head is placed in the upper right-hand corner, half an inch from the top margin and one inch from the right margin of the page.
Type your last name before the page number.
The last name and page number should be separated by a single space.
Do not place the word "page" or use an abbreviation, such as p. or pg., before the page number.
Quite often, the running head begins on the second page, but your instructor may ask you to include the running head on the first page of the assignment. As always, if your instructor provides you with specific directions, follow his or her guidelines.

Before adding this information manually onto every single page, check to see if the word processor you're using has the capability to automatically add this information for you. Try looking in the settings area where page numbers or headers can be added or modified.
---
Google Docs: Adding a header
Go to the menu section "Insert."
Select "Page numbers" and select the option that places the page number in the upper-right corner.
A page number will appear; your cursor will blink next to it.
Move your cursor to the left of the page number.
Type your last name. Add a space between your name and the page number.
You should now have a properly formatted header on every page!
---
Microsoft Word Document: Adding a header
Go to the menu section "Insert."
Select "Page numbers" and select the option that places the page number in the upper-right corner.
Either:

Double-click in the space at the top of the page (where the page number is).
OR Go to the "Insert" menu, select "Header," and select "Edit Header."

Type your last name next to page number. If it isn't already right-aligned, go to the "Home" menu and right-align your name.
You should now have a properly formatted header on every page!
---
Quotations in MLA
Quotes are added into assignments to help defend an argument, prove a point, add emphasis, or simply liven up a project.
Quotes should not take up the majority of your paper or assignment. Quotes should be sprinkled sparingly throughout, and quotes longer than 4 lines should be formatted as MLA block quotes. Use direct quotes from outside sources to enhance and expand on your own writing and ideas.
Words from quotes belong to the individual who spoke or wrote them, so it is essential to credit that individual's work. Credit him or her by adding what is called an "in-text citation" into the body of the project.
There are three ways to add quotes:
1. With the author's name in the sentence (a citation in prose).
Example:
Dan Gutman shares a glimpse into the overall plot by stating, "I didn't know it at the time, but a baseball card—for me—could function like a time machine" (5).
In the above example, Dan Gutman is the author of the book that this quote is pulled from.
2. Without the author's name in the sentence (a parenthetical citation).
Example:
The main character's confusing experience is realized and explained when he states "I didn't know it at the time, but a baseball card—for me—could function like a time machine" (Gutman 5).
In the above example, Dan Gutman's name isn't included in the sentence. It's included in the parentheses at the end of the sentence. This is an example of a proper MLA style citation in the body of a project.
3. In a block quote, which is used when a large quote, of 4 lines or more, is added into a project.
Using footnotes and endnotes
The Modern Language Association generally promotes the use of references as described in the sections above, but footnotes and endnotes are also acceptable forms of references to use in your paper.
Footnotes and endnotes are helpful to use in a variety of circumstances. Here are a few scenarios when it may seem appropriate to use this type of referencing:
When you are referring to a number of various sources, by various authors, in a section of your paper. In this situation, it is a good idea to use a footnote or endnote to share information for parenthetical references. This will encourage the reader to stay focused on the text of the research paper, instead of having to read through all of the reference information.
When you are sharing additional information that doesn't quite fit into the scope of the paper, but is beneficial for the reader. These types of footnotes and endnotes are helpful when explaining translations, adding background information, or sharing counterexamples to research.
To include a footnote or endnote, add a superscript number at the end of the sentence the footnote or endnote refers to. They can be included mid-sentence if necessary, but be sure to add it after any punctuation, such as commas or periods. Find a location that doesn't distract the reader from the content and flow of the paper.
Within the text example:
Numerous well-known children's books include characters from a wide range of races and ethnicities, thus promoting diversity and multiculturalism.¹
At the bottom of the page (footnote) or at the end of the section (endnote):
¹See Isadora, Parr, and Velazquez. While Parr's work features characters of various colors, such as pink or blue, children easily correlate it with individuals of different races and ethnicities.
On the last page of the assignment, the writer includes the full references for the books by Isadora, Parr, and Velazquez.
For more on block quotes and a further, detailed explanation on the use of quotes, including MLA footnotes, refer to our MLA In-Text Citation and Parenthetical Citations Guide. In this guide you'll find further information including directions for the use of quotes without an author, page numbers, and how to properly credit work from electronic sources.
For guides on citations in another style, check out APA parenthetical citation and APA in-text citation.
---
Paraphrases in MLA
Paraphrases are created when text or speech from another source are added into a project, but the writer chooses to summarize them and weave in his or her own writing and writing style.
Even though the writer modifies the information from another source, it is still necessary to credit the source using proper format (Handbook 98). Paraphrased information uses the same MLA reference format as stated in the section directly above this one.
Here is an acceptable paraphrase:
Original text:
"Stay hungry. Stay foolish." Steve Jobs
Paraphrase:
Steve Jobs encouraged students at Stanford to continue with their determination, drive, and ambitious behavior. They should never be simply satisfied with the status quo. They should continue to push themselves despite possible obstacles and failures.
---
To develop a well-written paraphrase, follow these simple, step-by-step instructions.
Find a phrase, sentence, paragraph, or section of original text you'd like to turn into a paraphrase.
Read the text carefully and make sure you fully comprehend its meaning. A writer can only develop a well-written paraphrase if the information has been fully grasped and understood. If you're having difficulty understanding the information, take a few minutes to read up on tricky words and background information. If all else fails, ask a friend to see if they're able to make sense of the concepts.
After analyzing and completely understanding the original text, put it to the side. Take a moment to think about what you've read and connect the idea to your own assignment.
Now that the information is completely understood, take a moment to rewrite what you've read, in your own words and writing style. Do not simply substitute words in the original text with synonyms. That's plagiarism! Show off and demonstrate your ability to process the original information, connect it to the content in your paper, and write it in your own individual and unique writing style.
Include an in-text reference next to the paraphrase. All paraphrases include references, similar to direct quotes. See the "Quotations" section of this guide to learn how to properly attribute your paraphrased information.
Give yourself a pat on the back! Paraphrasing is an important part of the research and writing process.
---
Wondering if it's better to quote or paraphrase?
An essential part of the research process involves adding direct quotes and paraphrases into projects. Direct quotes provide word-for-word evidence and allow writers to use another author's eloquent words and language in their own projects. When it comes to paraphrases, writers are able to take a block of text and shrink the scope of it into the their papers. Paper writers can also use paraphrases to demonstrate their ability to analyze and reiterate information in a meaningful and relevant way.
If you're wondering which one is better to consistently use, quotes or paraphrases, there's a clear winner. Paraphrases come out on top. Sure, direct quotes are incredibly beneficial, but copying and pasting too many of these into a project can cause a reader to lose sight of the writer's own voice. Mixing your own voice with another author's too much can make for choppy and disjointed reading.
The ultimate goal of a research project is to have your voice and research merged together as one. Paraphrases allow just that. When you combine information from outside sources with your own writing style, it demonstrates your ability as a researcher to showcase your understanding and analyzation of a topic.
Remember, whether you're adding direct quotes or paraphrases into a project, both types of additions need references. References are placed after the quotes and paraphrases, and also at the end of an assignment.
If you're looking for additional help with your punctuation or grammar, check out the EasyBib plagiarism checker!

---
Using Abbreviations in MLA
Abbreviations are commonly used in many source types including websites, blog posts, books, and journal articles. It is acceptable to use abbreviations in all of these sources.
When it comes to school and research assignments, however, the MLA Handbook states that abbreviations should be used rarely in the prose of your paper (293). Spelling out abbreviations into their full words and meanings is recommended. This ensures understanding and avoids any confusion from your reader.
There are times when you may feel it is perfectly acceptable to use an abbreviation rather than its typed out counterpart in a paper. If you do abbreviate, be sure you are using commonly accepted abbreviations, which you can find in the dictionary. You can also review Appendix 1 in the MLA Handbook.
General Abbreviation Tips
When including abbreviations, do not place periods in between capital letters. For example:

Human Immunodeficiency Virus can be abbreviated to HIV, not H.I.V.
United States should be US, not U.S.
Digital video disc should be DVD, not D.V.D.

For lower case abbreviations, it is acceptable to include periods between the letters.
The abbreviation, "For example" = e.g.
If there is a mix of lower case and upper case letters, do not use periods if the majority of the letters are upper case. Examples include PhD and EdD
---
Abbreviating Months
Type out entire month names when being used in the body of a research paper or assignment.
Example:
She rented out the beach house from May through September
When it comes to references, MLA bibliography format requires months longer than four letters to be abbreviated.
Example:
July = July
November = Nov.
Other abbreviations that are perfectly acceptable to use in a bibliography (not the body of a project) include:
p. or pp. for page and page numbers
ch. for chapter
ed. for edition
trans. for translation or translated
vol. for volume
no. for number
rev. for revised
Again, these abbreviations should only be used in the final page(s) of a project, the MLA Works Cited list. They should not be used in the body of a project.
For more information on bibliographies, see our MLA format Works Cited List page.
---
Abbreviating Publishers
One of the quirkiest things about this particular style is how publisher names are structured on the final page of references. Certain words are abbreviated, some words are omitted, and other words are written in full.
Words describing what type of business the publisher is are omitted from the works cited. Here's a breakdown of the words that should be excluded:
Co. (Company)
Corp. (Corporation)
Inc. (Incorporated)
Ltd. (Limited)
The (when at the beginning of the name)
If a publisher's name contains the words "University" and "Press" (or the equivalent in another language), the words should be abbreviated to the letters "U" and "P" in your citation. But if only one of the words appears, it should be written out normally.
Here are a few examples:
University of Delaware
Yale UP
U College of London P
MIT Press
All other words related to the names of publishers should be written out in full.
---
Abbreviating Titles
Certain classical and biblical works are abbreviated in a bibliography, but also in any parenthetical references in the text.
The official handbook provides a lengthy list, spanning over multiple pages, of the preferred abbreviations to use for classical and biblical works (Handbook 295-301), but here's a quick snapshot of some of the commonly used ones:
Hebrew Bible or Old Testament = OT
Deut. = Deuteronomy
Gen. = Genesis
Lev. = Leviticus
Num. = Numbers
Ps. = Psalms
New Testament = NT
1 Cor. = 1 Corinthians
Jas. = James
Matt. = Matthew
Shakespeare:
Ado = Much Ado about Nothing
3H6 = Henry VI, Part 3
JC = Julius Caesar
Mac. = Macbeth
MND = A Midsummer Night's Dream
Oth. = Othello

Rom. = Romeo and Juliet
Again, the titles above are allowed to be abbreviated both in references in parentheses in the body of a project and also on the final page of references. If you're wondering why, it's because they're cited often and it's unnecessary to type out the entire title names.
---
Formatting Numbers in MLA
Use of Numerals
If the project calls for frequent use of numbers (such as a scientific study or statistics), use numerals that precede measurements.
Example:
Other items to keep in mind:
In divisions, use numbers, ex: In page 5 of the study
---
Arabic Numbers
When including a number in a paper, spell out the number if it can be written as one word (such as six) or two words (such as sixty-two). For fractions, decimals, or longer numbers, type them out using digits. For larger numbers, write the number itself (Handbook 82-84).
Here are a few examples:
one
2 ½
three
8 ½
17.953
eighteen
twenty-seven
forty-four
one hundred
101
247
5,306
If the number comes before a unit of measurement or label, type the number using digits.
4 pounds
8 tablespoons
3-5 years
chapter 9
3 July 2018
25 King Street
5:00 a.m.
---
More on Numbers
Starting a sentence with a number is generally frowned upon. Try modifying the sentence so that the number, or number word, is found elsewhere.
Instead of:
225 children were found in the warehouse, some malnourished and diseased.
Use this sentence:
A total of 225 children were found in the warehouse, some malnourished and diseased.
If modifying the sentence is not possible or does not work well with the flow of the assignment or paper, type out the written number:
Two hundred twenty five children were found in the warehouse, some malnourished and diseased.
Do not include any ISBN numbers in your paper.
---
Outline Format
The Modern Language Association does not have any requirements regarding the structure of an outline. If your teacher asks you to create an MLA outline, we recommend using roman numerals, capital and lowercase letters, and numbers.
Here is an example of a recommended outline structure: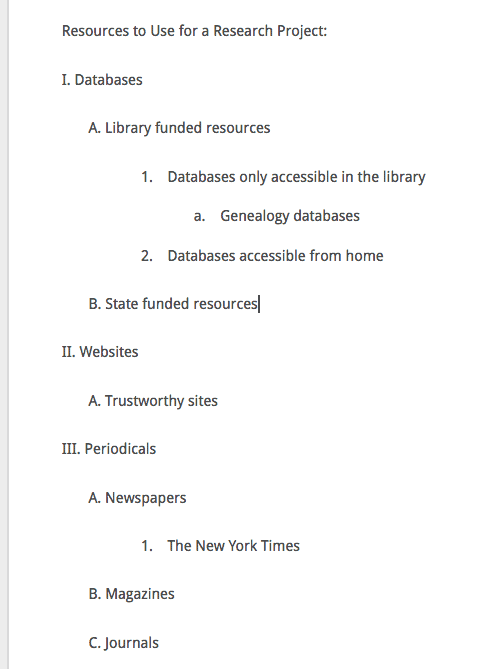 In addition to outlines, use roman numerals for suffixes.
King George IV
Ramses III
---
Using Images, Tables, & Musical Scores in MLA
Photographs, data sets, tables, graphs, and other images are often added into projects or papers to promote or aid understanding. They provide meaningful visuals for the reader. If the illustration or visual image does not enhance the quality of the paper, do not include it in the project.
Tables and illustrations should be placed as close as possible to the text that they most closely refer to.
Images
For an image to be significant and easily identifiable, place it as close as possible to the text in the project where it is discussed.
It is not acceptable to simply place an image in a project without including identifiable information. All images must include information about its origin.
Here are the directions to properly attribute an image:
Create a label for the image or illustration and place it directly beneath the image. Begin the label with the abbreviation "Fig.," which is short for figure.

Assign an Arabic number. The image closest to the beginning of the project should be labeled as Fig. 1. The next image in the project should be Fig. 2. and so on.

Provide a caption. The caption should be a brief explanation or the title of the contents of the image. Place the caption directly next to the label.
Immediately following the caption, it is acceptable to include attribution information. If the image is not discussed further in the rest of the paper or project, it is acceptable to include the MLA bibliography format citation below the image and omit it from the bibliography or MLA format works cited page.
In the text of the project or paper where the figure is discussed, include the label in parentheses to ensure the reader knows where to find the figure in your paper.
---
Example 1:
In the text:
Sarah's tattoo design was filled with two of her favorite flowers: lilies and daffodils along a thinly curved vine (fig. 1).
Image formatting:
(Image Would Be Here)
Fig. 1. Sarah's Tattoo. barneyWILLIAMSable, Deviant Art, 2011, barneywilliamsable.deviantart.com/art/Sarah-s-Tattoo-design-193048938.
---
Example 2: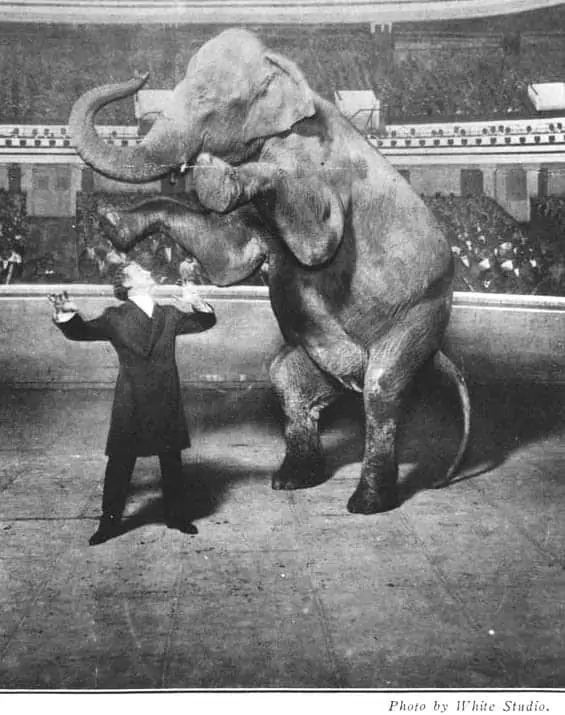 Fig. 1. White Studio. "Houdini and Jennie, the Elephant, Performing at the Hippodrome, New York." Library of Congress, www.loc.gov/item/96518833/.
---
Tables
When adding a table or data set into a project, it is formatted a little differently. Above the data set, include the label "Table" with an Arabic numeral, and title it. The table number and title should be located flush left and on separate lines. The first table seen in the project is labeled as Table 1. The second table in the project is Table 2, and so on. The table's title should be written in title case form (the first letter of each word is capitalized, except for small, insignificant words).
Underneath the table, provide the source and any notes. Notes should be labeled with a letter, rather than a numeral, so the reader is able to differentiate between the notes of the text and the notes of the table.
---
Example 1:
Table 4
International Scholars from India Enrolled at Yale University a
| | | |
| --- | --- | --- |
| Year | India | South Korea |
| 2012-2013 | 191 | 126 |
| 2013-2014 | 200 | 123 |
| 2014-2015 | 197 | 116 |
| 2015-2016 | 210 | 120 |
Source: "International Scholars Academic Year 2015-2016." Yale University, Office of International Students and Scholars, yale.app.box.com/v/scholar-2015-2016.
a. The numbers reflect students who are enrolled full-time.
The information included above and below any images or table should be double spaced, similar to the rest of the project or paper.
---
Example 2:
---
Musical Scores
Musical scores need to be labeled as well. When including a musical score in a project, label musical scores with "Ex." which is short for example. This label should be placed below the musical score. Next to the abbreviation "Ex.", assign the score an Arabic numeral. The first musical score in the project should be labeled as Ex. 1. The second musical score found in an assignment should be labeled as Ex. 2., and so on.
If possible, provide a caption after to the label. If the caption below the sheet music includes enough information about the source, it is not necessary to include the full reference at the end of the assignment.
Here is an example of a possible label and caption:
Ex. 4. Scott Joplin, The Entertainer, piano, C major.
Another example:
Here's more on tables and illustrations.
---
Using Lists in MLA
It's appropriate to add lists into an MLA format essay as long as the proper rules are followed.
Lists created using MLA essay format look different than a grocery list or any other type of vertical listing of items. Items in a list are included in your prose, rather than the traditional vertical style.
Often, you will use a colon between the introductory sentence and the list. But you should not include a colon if the first item in the list is part of the sentence.
List Example #1
Here is an example of how a list may look incorporated into the prose of a research project or assignment:
William Shakespeare wrote numerous plays, many of which were considered tragedies: Romeo and Juliet, Hamlet, Macbeth, Othello, Julius Caesar, and King Lear.
List Example #2
Here is an example of how a list may look in a research project or assignment when the list is part of the introductory sentence:
Many of William Shakespeare's were tragedies. Some of his most popular tragedies include Romeo and Juliet, Hamlet, Macbeth, Othello, Julius Caesar, and King Lear.
---
MLA Works Cited Format
EasyBib.com has a full, comprehensive guide to creating a proper works cited MLA format, but here are a few items to keep in mind when developing this portion of a project:
The list of citations should be the very last page of a research project or essay.
The top of the page should include the running head and the page number.
All entries should be placed in alphabetical order by the first item in the MLA format citation.
The entire page should be double spaced.
For more detailed information, make sure to check out the EasyBib guide to MLA format Works Cited pages.
---
MLA Citation Format
The majority of this guide focuses on MLA formatting in regards to MLA paper format rules and guidelines. If you're seeking information related to the proper formatting of an MLA citation, refer to our individual pages and posts on various types of citations.
If you're simply looking for the general structure for full references, which are found on the final pages of projects, here's the proper order:
Author's Last name, Author's First name. "Title of Source."* Title of Container, Names of other contributors along with their specific roles, version of the source (if it differs from the original or is unique), any key numbers associated with the source that aren't dates (such as journal issue numbers or volume numbers), Name of the Publisher, publication date, location (such as the URL or page numbers).
*Note: A title may be in italics instead of quotation marks, depending of the type of source. The general rule is that works that are self-contained (like books, journals, or television shows) are formatted in italics. Works that are part of a larger work (like articles, chapters, or specific episodes) are formatting in quotation marks. 
MLA Format Citing FAQs:
"What in the world are containers?"
Containers are what hold the source. If you're creating a reference for a chapter in a book, the title of the chapter is the title of the source, and the container is the title of the book. The book holds the chapter, so it's the container. If you're searching for how to cite a website, here's a tip: the title of the source is the name of the individual page and the title of the container is the name of the full website.
"This seems like a lot of information for a reference. Is it all necessary?"
The short answer is "No!" When citing, only include the components that help the reader locate the exact same source themselves.
It isn't necessary to go digging for items such as numbers, version types, or names of other individuals or contributors associated with the source if they aren't applicable. If you think it's beneficial for the reader, then include it.
Related to citations, here are helpful pages on:
---
If you're looking for an MLA citation generator, head to the EasyBib homepage. Our formatter will help you create citations quickly and easily!
Need APA, too? There are also EasyBib tools and an APA citation website reference guide to help you learn the basics.
---
Edits and Proofreading
Editing and proofreading your assignment prior to submission is an incredibly important step in the research process. Editing involves checking the paper for the following items:
Spelling: Are all words spelled correctly? Review all proper names, places, and other unique words to ensure correct spelling. When finished, run the project through a spell checker. Many word processing programs, such as Microsoft Word and Google Drive, provide a free spell checking feature. While spell checks are beneficial, they do not always spot every mistake, so make sure you take the time to read through the assignment carefully. If you're still not sure if your project contains proper spelling, ask a friend to read through it. They may find a mistake you missed!
Grammar: Check your assignment to make sure you've included proper word usage. There are numerous grammar checkers available to review your project prior to submission. Again, take the time to review any recommendations from these programs prior to accepting the suggestions and revisions.
Punctuation: Check to make sure the end of every sentence has an ending punctuation mark. Also make sure commas, hyphens, colons, and other punctuation marks are placed in the appropriate places.
Attribution

: Do all quotes and paraphrases include a citation? Did you create an in-text citation for each individual piece of information?
Smart idea: running your paper through a paper checker before you turn it in. EasyBib Plus offers a checker that scans for grammar errors and unintentional plagiarism. 

---
Check out our MLA sample papers. Also, check out the EasyBib MLA Annotated Bibliography Guide.
Don't forget to use the EasyBib citation generator to develop your Modern Language Association style references.EasyBib.com also has helpful guides on APA format and more styles. Lastly, stay up-to-date on what's coming by following our EasyBib Twitter account.
---
Works Cited
"Formatting a Research Paper." The MLA Style Center, Modern Language Association of America, style.mla.org/formatting-papers/.
MLA Handbook. 9th ed., Modern Language Association of America, 2021.
---
Published October 31, 2011. Updated July 25, 2021.
Written and edited by Michele Kirschenbaum and Elise Barbeau. Michele Kirschenbaum is a school library media specialist and the in-house librarian at EasyBib.com. You can find her here on Twitter. Elise Barbeau is the Citation Specialist at Chegg. She has worked in digital marketing, libraries, and publishing.
---
We are sorry that this post was not useful for you!
Let us improve this post!
Tell us how we can improve this post?
How do I properly format a works cited page in MLA style?

The works-cited list provides the reader full information so that a reader can locate the source for further use.

Basic formatting

Placement

The works-cited list appears at the end of the paper, after any endnotes if they are present.

Page margins

All margins (top, bottom, left, and right) should be set at 1 inch.

Running head

Write the running head in the top right of the page at 0.5 inch from the top. Use the running head "Surname Page #."

Font

The font should be clear enough to read. For example, Times New Roman font set to 12 points.

Formatting entries

Entries should be double-spaced, including a double-space between the heading and the first entry. If any entry runs over more than a line, indent the subsequent line(s) 0.5 inch from the left margin.

Formatting the title

The title should be "Works Cited." Center the title. Do not bold, italicize, or underline the title. If you cite only one source in the list, the title should be "Work Cited." If you include sources that you only consulted and didn't cite directly, the title should be changed accordingly to "Works Cited and Consulted."

Arranging works cited

Works-cited-list entries are arranged alphabetically by the author's last name (or the editor's last name for entire edited collections). Double-space all entries. Begin each entry flush with the left margin. If any entry runs over more than one line, indent the subsequent line(s) 0.5 inch from the left margin (sometimes called a hanging indent).

Example works cited

Works Cited

Damasio, Antonio. The Feeling of What Happens: Body, Emotion and the Making of Consciousness. Vintage, 2000.

Hill, R. T. "Legitimizing Colonial Privilege: Native Americans at a Quincentenary of Discourse." Text and Performance Quarterly, vol. 16, no. 1, 1996, pp. 92–100.

MacDonald, Shauna M. "Performance as Critical Posthuman Pedagogy." Text and Performance Quarterly, vol. 34, no. 2, 2014, pp. 164–81.

Zilio, M. "Canada Will Not Move Embassy to Jerusalem, Federal Government Says." The Globe and Mail. 7 Sept. 2017, www.theglobeandmail.com/news/politics/canada-will-not-move-embassy-to-jerusalem-federal-government-says/article37219576/.

What is an example of a parenthetical citation used in MLA format?

An in-text citation is a short citation that is placed in the text. It is styled in two ways: a citation in prose or a parenthetical citation.

The basic element needed for an in-text citation is the author's name. The publication year is not required in in-text citations. Sometimes, page numbers or line numbers are also included, especially when directly quoting text from the source being cited. When including a page number, do not include a comma or any other punctuation mark between the author's surname and the page number.

Parenthetical citations usually add only the author's surname at the end of the sentence in parentheses. Sometimes they include a page number or other locator. An example of a parenthetical citation is given below:

Example:

The spiritual geography of the landscape is explained (Cooper).

If you want to cite a chapter number, a scene, or a line number, follow the abbreviation guidelines below:

When including a more specific locator number rather than a page number, place a comma between the author's surname and the label.

(Cooper, ch. 2).

Here are a few examples of in-text citations for sources with different numbers or types of authors:

One author

Use only the surname of the author in parenthetical citations. If you want to add a page number (or another indicator of the place in a work), add it after the author's surname without any punctuation between the surname and the page number.

(Abraham 7).

Two authors

Add only the surnames of the authors. Use "and" to separate the two authors.

Example:

(Langmuir and Einstein).

Three or more authors

Add only the surname of the first author followed by "et al."

(Low et al.).

Corporate author

Shorten the organization name wherever possible, excluding any initial articles and using the shortest noun phrase (e.g., shorten Literary Society of Tamil Culture to Literary Society).

(Literary Society).

No author

If there is no author for the source, use the source title in place of the author's surname.

When you add such in-text citations, italicize the text of the title. If the source title is longer than a noun phrase, use a shortened version of the title. For example, the title Fantastic Beasts and Where to Find Them is shortened to Fantastic Beasts.

(Fantastic Beasts 160).