How to Cite an E-book in MLA
Share to Google Classroom
E-book – Written work or composition that has been digitized and is readable through computers or e-readers (Kindles, iPads, NOOK, etc.).
Citing an E-Book
Note: Some E-books may be available for download through your library.
Note: Since the page numbers of an e-book can vary across e-reader, text preferences, and other factors, you should not include a page number. This is because a consistent page number does not exist. You can include section numbers (sec., secs.) or chapter numbers (ch., chs.) instead, if they exist and you feel it would be helpful.
E-Book Citation Structure:
Last, First M. Book Title. E-book ed., Publisher, year of publication. Name of e-reader device.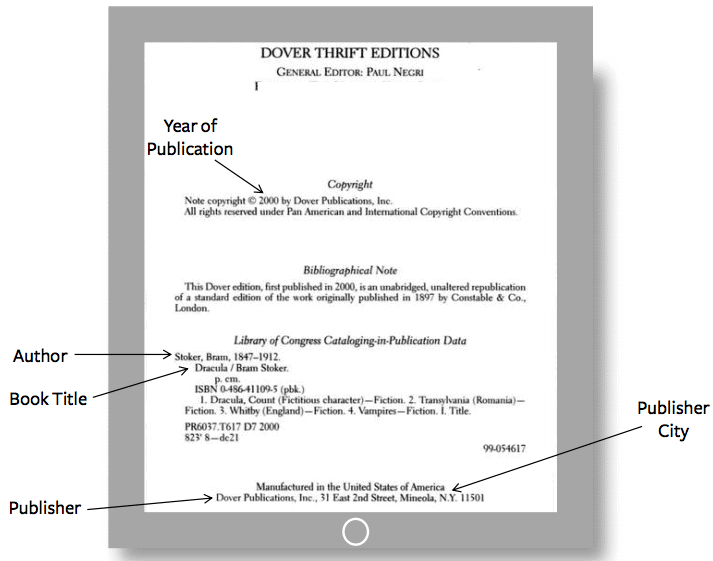 E-Book Citation Example:
Stoker, Bram. Dracula. E-book ed., Dover Publications, 2000. Kindle.
E-Book In-text Citation Structure:
(Author Last Name)
E-Book In-text Citation Example: 
(Stoker)
Creating MLA in-text citations? See this MLA in-text citation guide.
---
We are sorry that this post was not useful for you!
Let us improve this post!
Tell us how we can improve this post?
Is the EasyBib Citation Generator free?

It's 100% free to create MLA citations. The EasyBib Citation Generator also supports 7,000+ other citation styles. These other styles—including APA, Chicago, and Harvard—are accessible for anyone with an EasyBib Plus subscription.

Why should I use the EasyBib Citation Generator?

No matter what citation style you're using (APA, MLA, Chicago, etc.) the EasyBib Citation Generator can help you create the right bibliography quickly.

Can I download my sources?

Yes, there's an option to download source citations as a Word Doc or a Google Doc. You may also copy citations from the EasyBib Citation Generator and paste them into your paper.

Do I have to create an account?

Creating an account is not a requirement for generating MLA citations. However, registering for an EasyBib account is free and an account is how you can save all the citation you create. This can help make it easier to manage your citations and bibliographies.

Can I create a manual citation?

Yes! Whether you'd like to learn how to construct citations on your own, our Autocite tool isn't able to gather the metadata you need, or anything in between, manual citations are always an option. Click here for directions on using creating manual citations.

What should I do if information about my source is missing?

If any important information is missing (e.g., author's name, title, publishing date, URL, etc.), first see if you can find it in the source yourself. If you cannot, leave the information blank and continue creating your citation.

What citation style does the EasyBib Citation Generator support?

It supports MLA, APA, Chicago, Harvard, and over 7,000 total citation styles.