How to Cite a Database in MLA
Share to Google Classroom
Database – A structured, electronic collection that may contain full-text articles, abstracts, data, and citations. Databases typically require a subscription to access.
---
Database article published directly online by the database with no in-print original.
Online Database Citation Structure:
Last, First M. "Article Title." Publication Title, volume, number, issue (if provided), Date published, Page numbers (if applicable). Database Name, DOI or URL.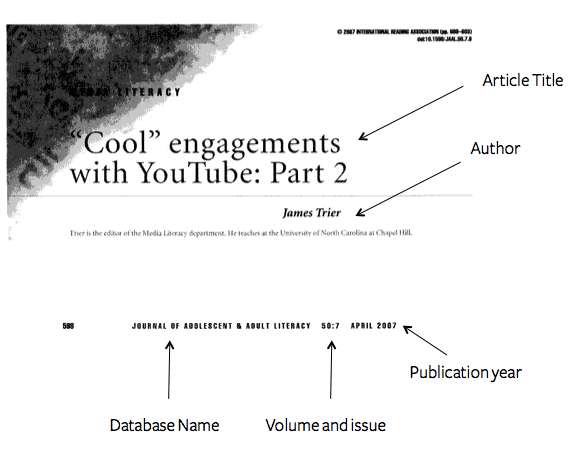 Online Database Citation Example:
Trier, James. "'Cool' Engagements with YouTube: Part 2." Journal of Adolescent & Adult Literacy, vol. 50. no. 7, April 2007, pp. 598-603. JSTOR, doi: 10.1598/JAAL.50.7.8.
Online Database In-text Citation Structure:
(Author's Last Name Page number)
Online Database In-text Citation Example:
"Two important, intertwined search aspects enabled by YouTube are immediacy and availability" (Trier 601).
---
Published October 31, 2011. Updated November 11, 2020.
We are sorry that this post was not useful for you!
Let us improve this post!
Tell us how we can improve this post?