How to Cite a Website Article in APA
Citing a general webpage/website article with an author
Note: Many sources have APA citation formats for their online versions (e.g., online newspapers, dictionaries and encyclopedias). Check out our other guides or the APA Publication Manual (6th ed.) first to see if there is a citation for a specific source type in an online format.
Webpage/Website Articles General Structure:
Author, F.M. (Year, Month Date of publication). Title of webpage/article. Retrieved from URL
Note: Only include the retrieval date if the content is likely to change over time (such as wikis). If necessary, include the retrieval month date, year, (in that order) between "Retrieved" and "from URL" in the last segment of the citation.
Note: When a website does not have a webpage/article title, replace it in the citation with the website title.

Example:
Limer, E. (2013, October 1). Heck yes! The first free wireless plan is finally here. Retrieved from http://gizmodo.com/heck-yes-the-first-free-wireless-plan-is-finally-here-1429566597
---
Citing a general webpage/website article without an author
Structure:
Title of webpage/article. (Year, Month Date of publication). Retrieved from URL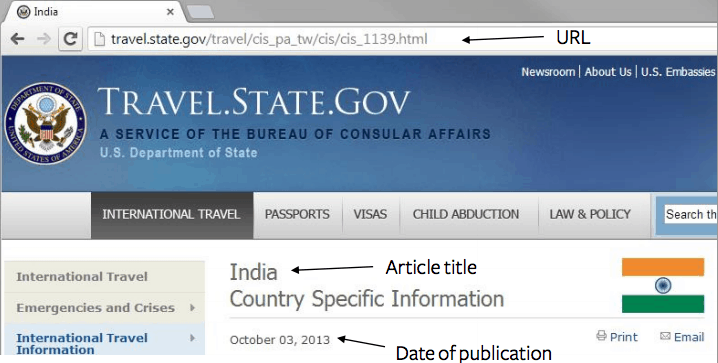 Example:
India: Country specific information. (2013, October 3). Retrieved from http://travel.state.gov/travel/cis_pa_tw/cis/cis_1139.html
Note: If the source you are citing is a standalone source, meaning an entire book, television series, or film, the title of such sources should be in italics. If, however, you are citing a piece of a larger source, i.e. a journal article, a webpage on a website, or an episode of a show, the title should be in sentence case and not in italics.
Q: This page describes citing specific webpages and website articles. Can I cite an entire website?

A: According to the APA manual (6th edition), it is not necessary to cite a website in its entirety in a reference list. Instead, include a reference in the body of your paper.
Example: The Department of Justice has just released a new site called ReportCrime.gov at http://www.reportcrime.gov/ to help people identify and report crimes in their area.
We are sorry that this post was not useful for you!
Let us improve this post!
Tell us how we can improve this post?