How to Cite Facebook in APA
Share to Google Classroom
Published July 21, 2014. Updated September 24, 2021.
Structure:
First name Last name. (Year, Month Date). Status update text [Facebook update]. Retrieved from URL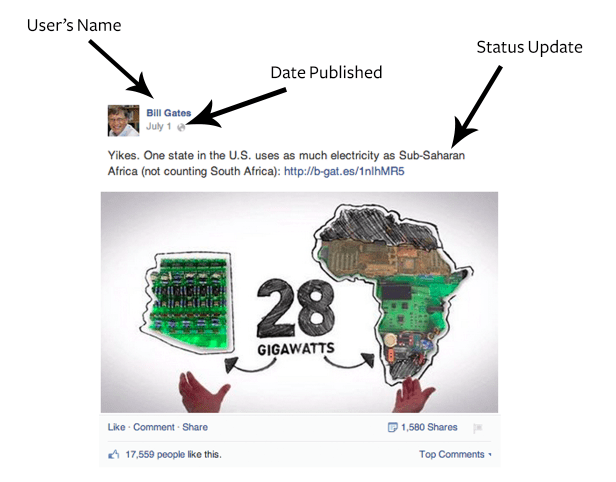 Example:
Bill Gates. (2014, July 1). Yikes. One state in the U.S. uses as much electricity as Sub-Saharan Africa (not counting South Africa): https://b-gat.es/1nIhMR5 [Facebook update]. Retrieved from https://www.facebook.com/photo.php fbid=10152251683486961&set=a.10150331291841961.334784.216311481960&type=1
---
We are sorry that this post was not useful for you!
Let us improve this post!
Tell us how we can improve this post?
How do I cite a Facebook post in APA format?

To cite a Facebook post in APA style, it is important that you know the author, description of the post, Facebook site, date (day, month, and year), and URL (uniform resource locator). The templates for an in-text citation and reference list entry of a Facebook post, along with examples, are given below:

In-text citation template and example:

Narrative:

Author Surname (Publication Date)

Republic (2021)

Parenthetical:

(Author Surname, Publication Date)

(Republic, 2021)

For author names, use only the surname in in-text citations.

Reference list entry template and example:

Author Surname, F. M. (Year, Month Day Published). Description of the post. [Post type]. Facebook. URL

Republic. (2021, August 7). Neeraj Chopra wins India's first gold at Tokyo Olympics, scripts history [Video]. Facebook. https://www.facebook.com/watch?ref=search&v=429580648293138&external_log_id=adea1389-7843-4c4c-94be-1a05f134cecc&q=olympics

How do you cite a social media post in APA?

To cite a social media post in APA style, it is important that you know the author, description of the post, social media site such as Facebook, date (day, month, and year), and URL (uniform resource locator). The templates for an in-text citation and reference list entry of a social media post, along with examples, are given below:

In-text citation template and example:

Narrative:

Author Surname (Publication Date)

SLS (2021)

Parenthetical:

(Author Surname, Publication Date)

(SLS, 2021)

For author names, use only the surname in in-text citations.

Reference list entry template and example:

Author Surname, F. M. (Year, Month Day Published). Description of the post. [Status update]. Social Media Site. URL

SLS. (2021, August 20). Learning principles of life with Shridhar [Video]. Facebook. https://www.facebook.com/ShridharLifeSchool/photos/a.884274358318086/4359975774081243/