How to Cite the Bible in APA
Share to Google Classroom
Note: Classical religious texts, like the Bible, do not require a citation in the reference list in APA style. However, you must include an in-text citation anytime you reference these texts in your writing.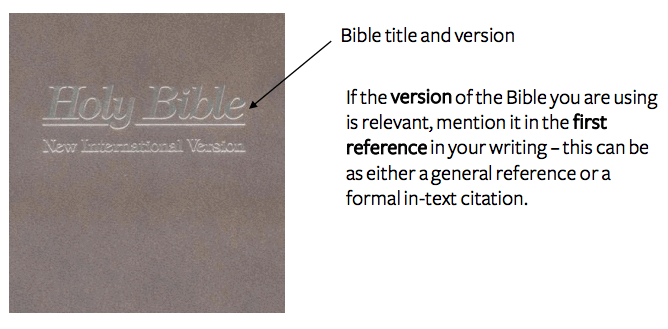 APA In-Text Bible Citations
When quoting or paraphrasing specific excerpts from the text, include the "relevant names and/or numbers of chapters/verses/lines" in your in-text citation (Lee, 2009).
In-Text Bible Example:
The Bible extols the virtues of love; "Love is patient, love is kind. It does not envy, it does not boast, it is not proud" (1 Cor. 13:4 New International Version).
Note: Remember, you only need to cite the version of the Bible used in the first general reference to or in-text citation of the source. In all other instances, leave it out.
---
We are sorry that this post was not useful for you!
Let us improve this post!
Tell us how we can improve this post?