In this guide, students and researchers can learn the basics of creating a properly formatted research paper according to APA guidelines.
It includes information on how to conceptualize, outline, and format the basic structure of your paper, as well as practical tips on spelling, abbreviation, punctuation, and more. The guide concludes with a complete sample paper as well as a final checklist that writers can use to prepare their work for submission.
APA Paper Formatting Basics
All text should be double-spaced
Use one-inch margins on all sides
All paragraphs in the body are indented
Make sure that the title is centered on the page with your name and school/institution underneath
Use 12-point font throughout
All pages should be numbered in the upper right hand corner
The manual recommends using one space after most punctuation marks
A shortened version of the title ("running head") should be placed in the upper left hand corner
---
Table of Contents
---
---
Writing and Organizing Your APA Paper in an Effective Way
This section of our guide focuses on proper paper length, how to format headings, spacing, and more! This information can be found in Chapter 2 of the official manual (American Psychological Association, 2020, pp. 29-67).
Categories of papers
Before getting into the nitty-gritty details related to APA research paper format, first determine the type of paper you're about to embark on creating:
General paper length
Since APA style format is used often in science fields, the belief is "less is more." Make sure you're able to get your points across in a clear and brief way. Be direct, clear, and professional. Try not to add fluff and unnecessary details into your paper or writing.  This will keep the paper length shorter and more concise.
---
Margin sizes in APA Format
When it comes to margins, keep them consistent across the left, right, top, and bottom of the page. All four sides should be the same distance from the edge of the paper. It's recommended to use at least one-inch margins around each side. It's acceptable to use larger margins, but the margins should never be smaller than an inch.
Title pages in APA Format
The title page, or APA format cover page, is the first page of a paper or essay. Some teachers and professors do not require a title page, but some do. If you're not sure if you should include one or not, ask your teacher. Some appreciate the page, which clearly displays the writer's name and the title of the paper.
---
Running heads in APA Format
The 7th edition of the American Psychological Association Publication Manual (p. 37) states that running heads are not required for student papers unless requested by the instructor. Student papers still need a page number included in the upper right-hand corner of every page. The 6th edition required a running head for student papers, so be sure to confirm with your instructor which edition you should follow. Of note, this guide follows the 7th edition.
---
Preparing outlines in APA Format
Outlines are extremely beneficial as they help writers stay organized, determine the scope of the research that needs to be included, and establish headings and subheadings.
Don't forget, if you're looking for information on APA citation format and other related topics, check out our other comprehensive guides.
How to form an abstract in APA
An APA format abstract (p. 38) is a summary of a scholarly article or scientific study. Scholarly articles and studies are rather lengthy documents, and abstracts allow readers to first determine if they'd like to read an article in its entirety or not.
You may come across abstracts while researching a topic. Many databases display abstracts in the search results and often display them before showing the full text of an article or scientific study. It is important to create a high quality abstract that accurately communicates the purpose and goal of your paper, as readers will determine if it is worthy to continue reading or not.
---
The body of an APA paper
On the page after the title page (if a student paper) or the abstract (if a professional paper), begin with the body of the paper.
Keep in mind, APA citation format is much easier than you think, thanks to EasyBib.com. Try our automatic generator and watch how we create APA citation format references for you in just a few clicks. While you're at it, take a peek at our other helpful guides, such as our APA reference page guide, to make sure you're on track with your research papers.
---
Proper usage of headings & subheadings in APA Format
Headings (p. 47) serve an important purpose in research papers — they organize your paper and make it simple to locate different pieces of information. In addition, headings provide readers with a glimpse to the main idea, or content, they are about to read.
---
Use of graphics (tables and figures) in APA Format
If you're looking to jazz up your project with any charts, tables, drawings, or images, there are certain APA format rules (pp. 195-250) to follow.
First and foremost, the only reason why any graphics should be added is to provide the reader with an easier way to see or read information, rather than typing it all out in the text.
Lots of numbers to discuss? Try organizing your information into a chart or table. Pie charts, bar graphs, coordinate planes, and line graphs are just a few ways to show numerical data, relationships between numbers, and many other types of information.
Instead of typing out long, drawn out descriptions, create a drawing or image. Many visual learners would appreciate the ability to look at an image to make sense of information.
---
B. Writing Style Tips
Writing a paper for scientific topics is much different than writing for English, literature, and other composition classes. Science papers are much more direct, clear, and concise. This section includes key suggestions, explains how to write in APA format, and includes other tidbits to keep in mind while formulating your research paper.
Verb usage in APA
Research experiments and observations rely on the creation and analysis of data to test hypotheses and come to conclusions. While sharing and explaining the methods and results of studies, science writers often use verbs.
If this is all a bit much, and you're simply looking for help with your references, try the EasyBib.com APA format generator. Our APA formatter creates your references in just a few clicks. APA citation format is easier than you think thanks to our innovative, automatic tool.
---
Proper tone
Even though your writing will not have the same fluff and detail as other forms of writing, it should not be boring or dull to read. The Publication Manual suggests thinking about who will be the main reader of your work and to write in a way that educates them.
---
How to reduce bias & labels
The American Psychological Association strongly objects to any bias towards gender, racial groups, ages of individuals or subjects, disabilities, and sexual orientation (pp. 131-149). If you're unsure whether your writing is free of bias and labels or not, have a few individuals read your work to determine if it's acceptable.
---
Spelling in APA Format
---
Abbreviation do's and don'ts in APA Format
Abbreviations can be tricky. You may be asking yourself, "Do I include periods between the letters?" "Are all letters capitalized?" "Do I need to write out the full name each and every time?" Not to worry, we're breaking down the publication manual's abbreviations (p. 172) for you here.
---
Punctuation in APA Format
---
Number rules in APA Format
Science papers often include the use of numbers, usually displayed in data, tables, and experiment information. The golden rule to keep in mind is that numbers less than 10 are written out in text. If the number is more than 10, use numerals.
Need help with other writing topics? Our plagiarism checker is a great resource for anyone looking for writing help. Say goodbye to an out of place noun, preposition, or adjective, and hello to a fully edited paper.
---
Overview of APA references
While writing a research paper, it is always important to give credit and cite your sources; this lets you acknowledge others' ideas and research you've used in your own work. Not doing so can be considered plagiarism, possibly leading to a failed grade or loss of a job.
APA style is one of the most commonly used citation styles used to prevent plagiarism. Here's more on crediting sources.
Let's get this statement out of the way before you become confused: An APA format reference and an APA format citation are two different things! We understand that many teachers and professors use the terms as if they're synonyms, but according to this specific style, they are two separate things, with different purposes, and styled differently.
---
In-text APA citation format
Did you find the perfect quote or piece of information to include in your project? Way to go! It's always a nice feeling when we find that magical piece of data or info to include in our writing. You probably already know that you can't just copy and paste it into your project, or type it in, without also providing credit to the original author.
---
References page in APA Format
An APA format reference page is easier to create than you probably think. We go into detail on how to create this page on our APA reference page. We also have a guide for how to create an annotated bibliography in APA. But, if you're simply looking for a brief overview of the reference page, we've got you covered here.
---
Final APA Format Checklist
---
Submitting Your APA Paper
Congratulations for making it this far! You've put a lot of effort into writing your paper and making sure the t's are crossed and the i's are dotted. If you're planning to submit your paper for a school assignment, make sure you review your teacher or professor's procedures.
---
What is APA Format?
APA stands for the American Psychological Association. In this guide, you'll find information related to "What is APA format?" in relation to writing and organizing your paper according to the American Psychological Association's standards. Information on how to cite sources can be found on our APA citation page. The official American Psychological Association handbook was used as a reference for our guide and we've included page numbers from the manual throughout. However, this page is not associated with the association.
You'll most likely use APA format if your paper is on a scientific topic. Many behavioral and social sciences use this organization's standards and guidelines.
What are behavioral sciences? Behavioral sciences study human and animal behavior. They can include:
Psychology
Cognitive Science
Neuroscience
What are social sciences? Social sciences focus on one specific aspect of human behavior, specifically social and cultural relationships. Social sciences can include:
Sociology
Anthropology
Economics
Political Science
Human Geography
Archaeology
Linguistics
What's New in the 7th Edition?
This citation style was created by the American Psychological Association. Its rules and guidelines can be found in the Publication Manual of the American Psychological Association. The information provided in the guide above follows the 6th edition (2009) of the manual. The 7th edition was published in 2020 and is the most recent version.
---
Visit our EasyBib Twitter feed to discover more citing tips, fun grammar facts, and the latest product updates.
---
American Psychological Association. (2020). Publication manual of the American Psychological Association (7th ed.) (2020). American Psychological Association. https://doi.org/10.1037/0000165-000
---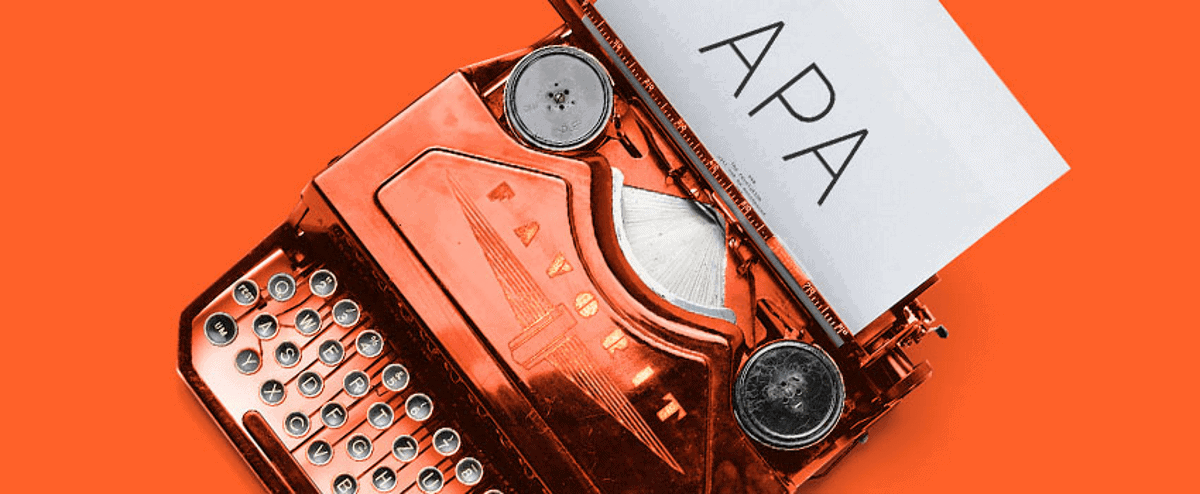 Published October 31, 2011. Updated May 14, 2020.
Written and edited by Michele Kirschenbaum and Elise Barbeau. Michele Kirschenbaum is a school library media specialist and the in-house librarian at EasyBib.com. Elise Barbeau is the Citation Specialist at Chegg. She has worked in digital marketing, libraries, and publishing.
---
When should I use "et al." in my APA reference list entry?

We should not use "et al." in APA reference list entries. If the number of authors in the source is up to and including 20, list all author names and use an ampersand (&) before the final author's name. If the number of authors is more than 20, list the first 19 authors' names followed by an ellipsis (but no ampersand), and then add the final author's name. An example of author names in a reference entry having more than 20 authors is given below:

Author Surname1, F. M., Author Surname2, F. M., Author Surname3, F. M., Author Surname4, F. M., Author Surname5, F. M., Author Surname6, F. M., Author Surname7, F. M., Author Surname8, F. M., Author Surname9, F. M., Author Surname10, F. M., Author Surname11, F. M., Author Surname12, F. M., Author Surname13, F. M., Author Surname14, F. M., Author Surname15, F. M., Author Surname16, F. M., Author Surname17, F. M., Author Surname18, F. M., Author Surname19, F. M., . . .  Last Author Surname, F. M. (Publication Year).

Alvarez, L. D., Peach, J. L., Rodriguez, J. F., Donald, L., Thomas, M., Aruck, A., Samy, K., Anthony, K., Ajey, M., Rodriguez, K. L., Katherine, K., Vincent, A., Pater, F., Somu, P., Pander, L., Berd, R., Fox, L., Anders, A., Kamala, W., . . . Nicole Jones, K. (2019).

Note that, unlike references with 2 to 20 author names, the symbol "&" is not used here before the last author's name.

What is new in APA 7?

APA 7, released in October 2019, has some new updates. Here is a brief description of the updates made in APA 7.

Different types of papers and best practices are given in detail in Chapter 1.

How to format a student title page is explained in Chapter 2. Examples of a professional paper and a student paper are included.

Chapter 3 provides additional information on qualitative and mixed methods of research.

An update on writing style is included in Chapter 4.

In chapter 5, some best practices for writing with bias-free language are included.

Chapter 6 gives some updates on style elements including using a single space after a period, including a citation with an abbreviation, the treatment of numbers in abstracts, treatment for different types of lists, and the formatting of gene and protein names.

In Chapter 7, additional examples are given for tables and figures for different types of publications.

In Chapter 8, how to format quotations and how to paraphrase text are covered with additional examples. A simplified version of in-text citations is clearly illustrated.

Chapter 9 has many updates: listing all author names up to 20 authors, standardizing DOIs and URLs, and the formatting of an annotated bibliography.

Chapter 10 includes many examples with templates for all reference types. New rules covering the inclusion of the issue number for journals and the omission of publisher location from book references are provided. Explanations of how to cite YouTube videos, power point slides, and TED talks are included.

Chapter 11 includes many legal references for easy understanding.

Chapter 12 provides advice for authors on how to promote their papers.

For more information on some of the changes found in APA 7, check out this EasyBib article.