How to Cite a Report in MLA
Share to Google Classroom
Citing a Report
Report – A document containing the findings of an individual or group. Can include a technical paper, publication, issue brief, or working paper.
Report Citation Structure:
Last, First M. Report Title. Publisher, date published, URL (if applicable).
Note: If the author and publisher of the report are the same, start your citation with the title of the report instead. 
First Page of Report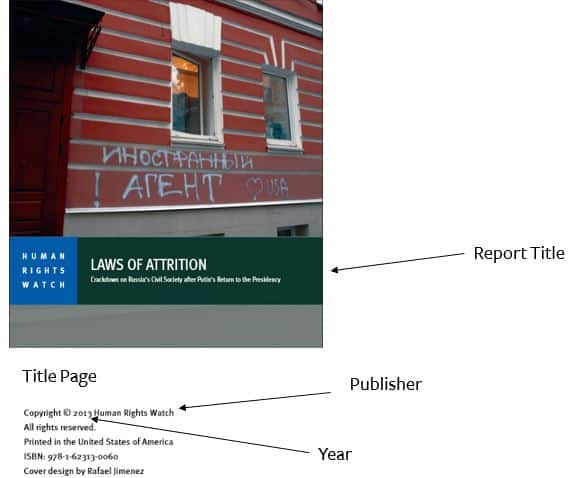 Report Citation Example:
Gorbunova, Yulia and Konstantin Baranov. Laws of Attrition: Crackdown on Russia's Civil Society After Putin's Return to the Presidency. Human Rights Watch, 2013.
Report In-text Citation Structure:
(Author Last Name(s) Page #)
Report In-text Citation Example: 
(Gorbunova and Konstantin 4)
---
We are sorry that this post was not useful for you!
Let us improve this post!
Tell us how we can improve this post?