How to Cite a Blog in MLA 7
Share to Google Classroom
Blog – A website with regular (and sometimes opinionated) posts that allows commentary and discussion from readers.
---
Citing a Blog Post
MLA Blog Post Citation Structure:
Last, First M. "Article Title." Blog Post Type.* Website/Blog Title. Website Publisher, Date Month Year Published. Web. Date. Month. Year Accessed.
*Blog post type refers to what type of content you are using. Is it a standard blog on a website, an audio blog (podcast) or a vlog (video blog)?
Note: MLA7 does not require the URL/link in a website citation. However, some instructors still ask for it – double-check if your instructor requires it.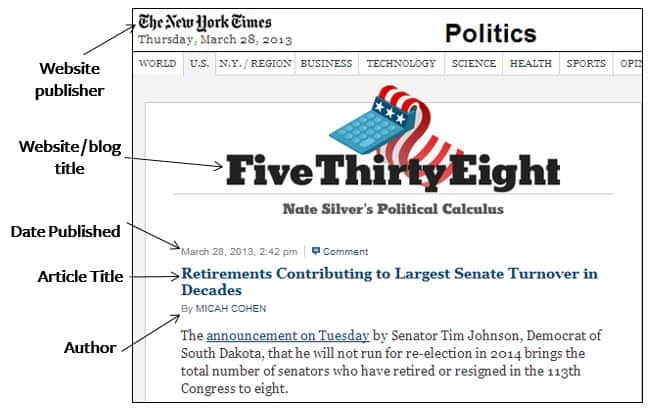 Date accessed: This is the day that the article was found and read.
MLA Blog Post Citation Example:
Cohen, Micah. "Retirements Contributing to Largest Senate Turnover in Decades." Web blog post. FiveThirtyEight. The New York Times Company, 28 Mar. 2013. Web. 30 Mar. 2013.
---
We are sorry that this post was not useful for you!
Let us improve this post!
Tell us how we can improve this post?