How to cite a Website in Chicago/Turabian
Citing a general website article
Note: Website citations are often left out of the bibliography and are instead mentioned in a note or within the text. If your instructor would like a formal citation, use the format below. Include a URL and a publication date or date of last revision; if either of those dates cannot be found, include an accessed date. 
Note: Capitalization rules depend on the website you are citing. Titles of websites are generally set in roman without quotation marks and capitalized in title case. In a small departure from the 16th edition, CMOS 17 specifies that if the website has a print counterpart (such as the websites for newspapers and other publications), then it should be in italics. If it does not, then it should be treated normally. See the examples below:
The website of the Washington Post = Washington Post 
Wikipedia's entry on the American Revolution = Wikipedia
Structure:
Last name, First name. "Article Title." Website Title. Month Date, Year of publication. Publication/Updated Month Date, Year OR Accessed Month Date, Year of access. URL.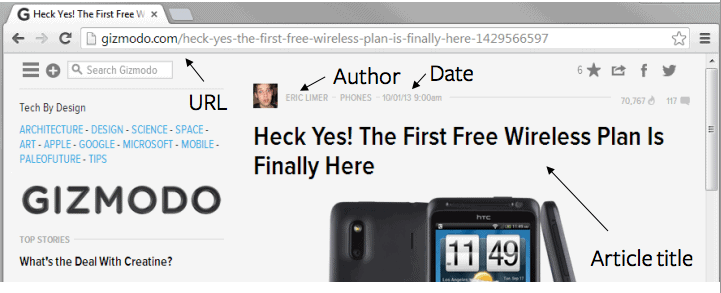 Note: If there is a "Last modified on" date, include that if the publication date cannot be found.
Examples:
Limer, Eric. "Heck Yes! The First Free Wireless Plan is Finally Here." Gizmodo. October 1, 2013. http://gizmodo.com/heck-yes-the-first-free-wireless-plan-is-finally-here-1429566597
Shevchenko, Olga. "Remembering Life in the Soviet Union, One Family Photo at a Time." The New York Times. December 27, 2017. https://www.nytimes.com/2017/12/27/opinion/sunday/-soviet-union-one-photos.html?action=click&pgtype=Homepage&version=Moth-Visible&moduleDetail=inside-nyt-region-1&module=inside-nyt-region&region=inside-nyt-region&WT.nav=inside-nyt-region
We are sorry that this post was not useful for you!
Let us improve this post!
Tell us how we can improve this post?