How To Cite a Dictionary in Chicago/Turabian
Citing an online dictionary entry
Note: Popular dictionaries should be referenced in the notes only, but lesser-known dictionaries can be included in the bibliography. See sections 14.247 and 14.248 of the Chicago Manual of Style for additional information.
Structure:
Dictionary title, s.v. "Definition word," by First name Last name (if applicable), accessed Month Date, Year, URL.
Note: Here is how you would cite the entry for "food baby" from an online dictionary accessed October 22, 2013 in your notes: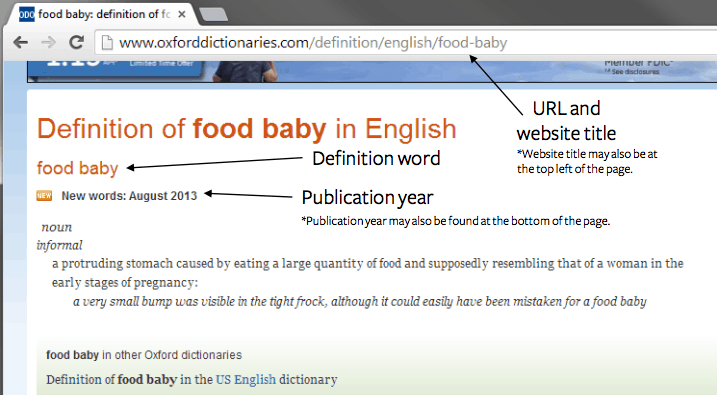 Example:
Oxford Dictionaries, s.v. "food baby," accessed October 22, 2013, http://www.oxforddictionaries.com/definition/english/food-baby.
How useful was this post?
Click on a star to rate it!
We are sorry that this post was not useful for you!
Let us improve this post!
Thanks for your feedback!