How to Cite a Blog in Chicago/Turabian
Share to Google Classroom
Published August 10, 2012. Updated August 18, 2020.
Note: According to the Chicago Manual of Style, blog posts are typically not included in bibliographies, but can be cited in the running text and/or notes. However, if a blog is cited frequently, you may include it in the bibliography.
Structure:
First name Last Name, "Title of Blog Post," Blog Title (blog), Publisher/Sponsor of Blog (if applicable), Month Date, Year of post, URL.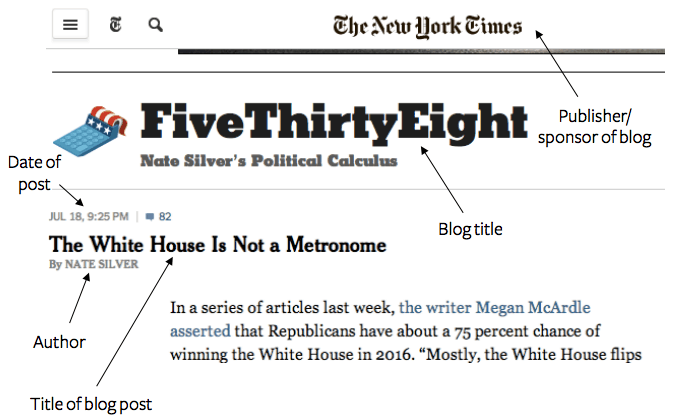 Notes reference:
Silver, Nate. "The White House is Not a Metronome," FiveThirtyEight (blog), New York Times, July 18, 2013, https://fivethirtyeight.blogs.nytimes.com/2013/07/18/the-white-house-is-not-a-metronome/.
We are sorry that this post was not useful for you!
Let us improve this post!
Tell us how we can improve this post?