How to Write an Essay Outline
Share to Google Classroom
It's 11 p.m., your paper is due tomorrow, and you're only about halfway done. You're typing along and when you realize that, wait…you're actually not a huge fan of your argument or the supporting examples you're using. Your options are to haphazardly keep writing or to backtrack and rehash what you've already done. Ugh. Unsurprisingly, both options aren't great.
This scenario is scary, but totally avoidable! Though it's tempting to just start writing, one of the best steps you can take before you type a single word is to create an outline for your paper. By taking the time to write a paper outline, you can prevent the scenario above and make your writing process a cinch!
Guide Overview
What is a paper outline?
A paper outline is a skeletal version of your paper. Another way to think about an outline is to view it as a roadmap. An outline helps you organize and streamline your thoughts ahead of time. By front loading this work, you allow the eventual writing process to be much easier: instead of having to backtrack and see if your paper makes sense, you can refer to your outline and be rest assured that you're on the right track.
Why it's worth writing an outline
It's understandable if you think it's not worth the time to write an outline. After all, writing a paper in itself is a lot of work – why add an extra step?
Here's the secret: creating an outline and then writing your paper takes about the same amount of time as jumping straight into writing your paper. Why? By immediately writing, you run the risk of having to go back and see if the flow of your paper makes sense. Backtracking takes up a lot of time: having to go back and revise your paper because you missed a point can be a pain.
Taking the time to outline your paper gives you the space to see what arguments work, which examples to include, and more. Doing this prep work ahead of time prevents you from having to do it while in the middle of your paper. Your completed outline serves as a solid reference as you write your assignment. In an ideal world, your outline should be so thorough that the writing process is essentially just you converting your bullet points into sentences that flow together!
How to outline a paper
Step 1: Gather your relevant materials
The first step to take when outlining a paper is to gather all your relevant materials. If you're writing a paper about a book you're reading in class, start thinking about which passages from the book are relevant to your prompt. If you're writing a paper about a broader topic, identify what sources you'll need to construct your argument.
Pro tip: Avoid plagiarism and keep track of the sources you're using at EasyBib.com! Easily create an APA or MLA format citation, try out our Chicago citation generator, and find help for other citation styles.
Step 2: Create your thesis
After you've compiled your materials, start thinking about your thesis statement. Revisit your assignment prompt, peruse your materials, and determine what your viewpoint is regarding the prompt.
Step 3: Find examples
Once you have your thesis, come up with ways to support it. Identify the quotes you need or the arguments you want to utilize in order to bolster your thesis.
Step 4: Analyze Your Examples
Write 3-4 bullet points connecting your examples to your thesis. The analysis part of your paper is the meat of your paper, so feel free to take as much time as you want during this step.
Step 5: Arrange Your Examples
Now that you have your examples and analysis, arrange them in a logical way that helps you develop and support your thesis. This is the step in which you can start copying and pasting your notes into an outline that mimics the flow of your paper. By the end of this step, you should have a solid outline!
An example
Here's a template for a five paragraph essay you can use for your papers moving forward: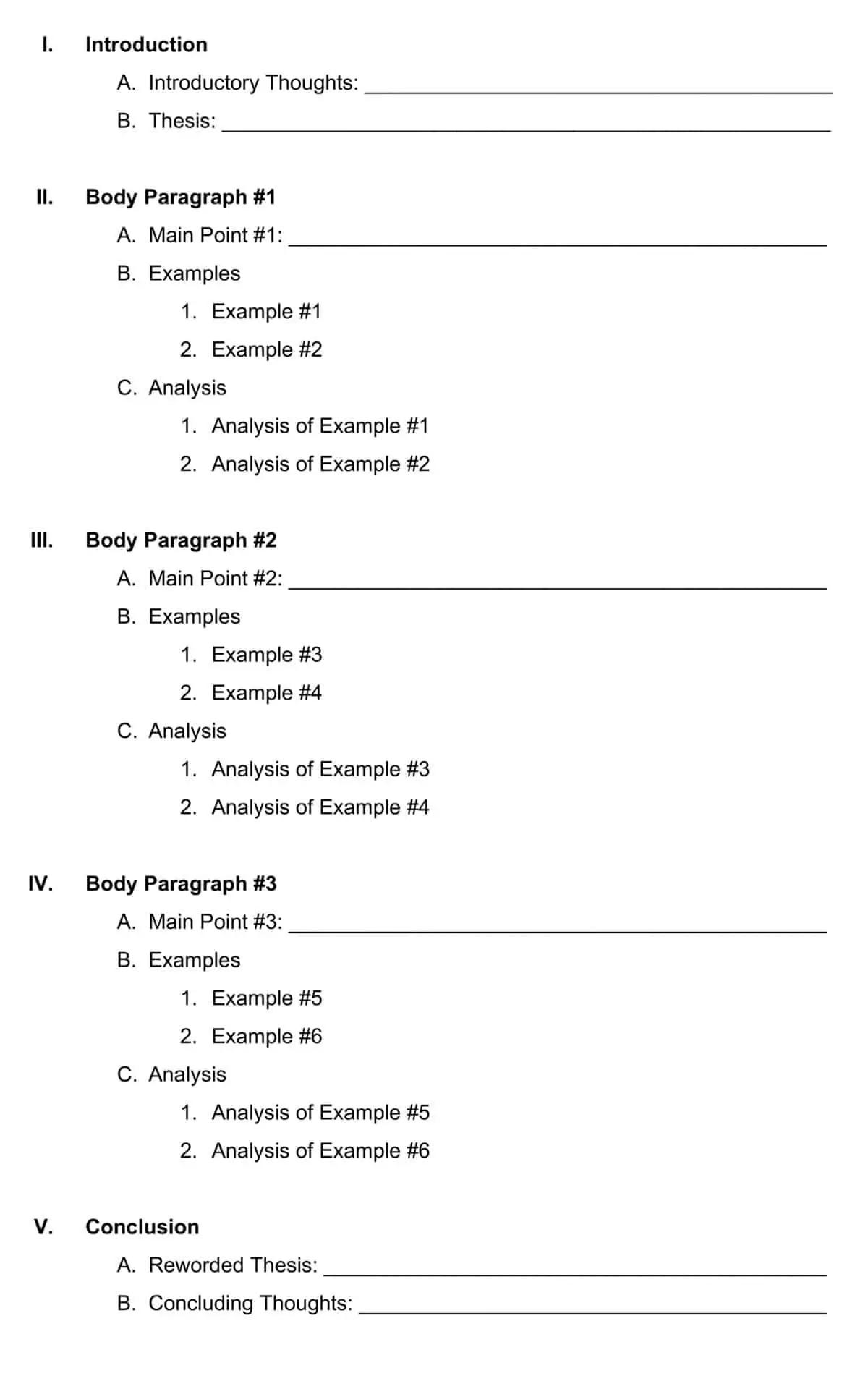 ---
Before you jump into writing your paper, it might pay to take a quick look at our EasyBib grammar guides. Discover what an abstract noun is, read a determiner definition, see the difference between regular and irregular verbs, and get familiar with other parts of speech.
---
We are sorry that this post was not useful for you!
Let us improve this post!
Tell us how we can improve this post?