WriteLab & Chegg: Improve Your Writing in Less Time
WriteLab has joined forces with Chegg to bring you the intuitive and personalized writing support you rely on, now with so much more on EasyBib®, a Chegg service!

We are happy to announce that WriteLab is joining Chegg, the leading student-first connected learning platform.
By joining the Chegg team, we will be able to reach more students and accelerate our work toward our collective mission to teach students to write better. Together, we will be able to serve students better, providing tools to support one billion people actively learning to speak and write English around the world.
Matthew Ramirez, WriteLab Co-founder & CEO
---
Coming Soon to EasyBib® Plus:
WriteLab's Eye-Opening Automated Feedback
Currently being integrated into the full range of writing resources on EasyBib Plus, WriteLab offers automated feedback based on  Natural Language Processing designed to refine and strengthen your writing.
EasyBib Plus existing platform coupled with the technology WriteLab created, will give writers targeted, automated feedback about grammar and suggestions for improving their writing style.
---
Focus Your Time and Get Quick Feedback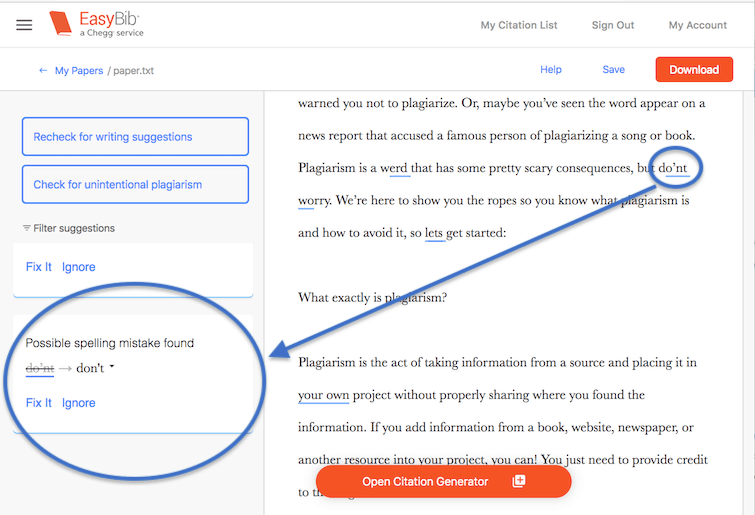 Get help developing polished drafts, leaving you more time for other tasks. Get detailed, personalized feedback that inspires exceptional revision.
Coming early 2019 :
When you use EasyBib Plus's smart proofreader, you can write with confidence. The same feedback regarding your writing's concision, clarity, logic, and grammar that you relied on from WriteLab will be integrated into your EasyBib Plus feedback so you can write and revise with certainty.
---
Foster Self-Learning and Writing Achievement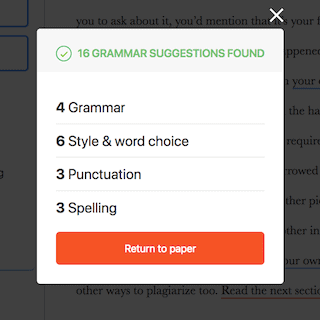 Get the tools to make the writing process responsive and compelling—fostering your comfort alongside a growth mindset with personalized, targeted feedback and a library of free resources.
EasyBib Plus allows you to upload your paper to our checker to receive suggestions that help improve your writing style, grammar, and sentence structure. Not only will you get immediate feedback to help you revise your paper and enhance your writing, but you'll also receive explanations for each suggestion so you can learn as you go.
There's no need to wait until you have a paper to write for the learning to start. Access our free resource library (see below) any time and learn about the different parts of speech, how to use them, and how to employ them to take your writing to the next level. Used alone or in conjunction with the feedback you receive from your uploaded papers, you can target the areas that give you trouble for a quick study that can have a significant impact.
---
Explore Our Resource Library
Read our noun and pronoun guides to understand how you can clarify your writing with pronouns that clearly reference a previously mentioned noun. Next, brush up on action verbs in our verb guide, and make your meaning crystal clear by limiting to be verbs.
Do you get tripped up by similar sounding words or words with similar meanings?
Don't get tripped up by similar sounding words with different meanings. Bad or badly? Hard or hardly? Good or well? Less or fewer? Read our determiner, adverb, and adjectives guides and know for sure.
Does your writing sound choppy or lack a cohesive style?
If your words and sentences don't seem to fit together, consider our conjunction and preposition guides for help with connecting your thoughts and words. If it's your fiction that is lacking flow, our interjection guide can offer insight into writing realistic dialogue that captivates readers.
---
Check for Unintentional Plagiarism and Create Citations With Ease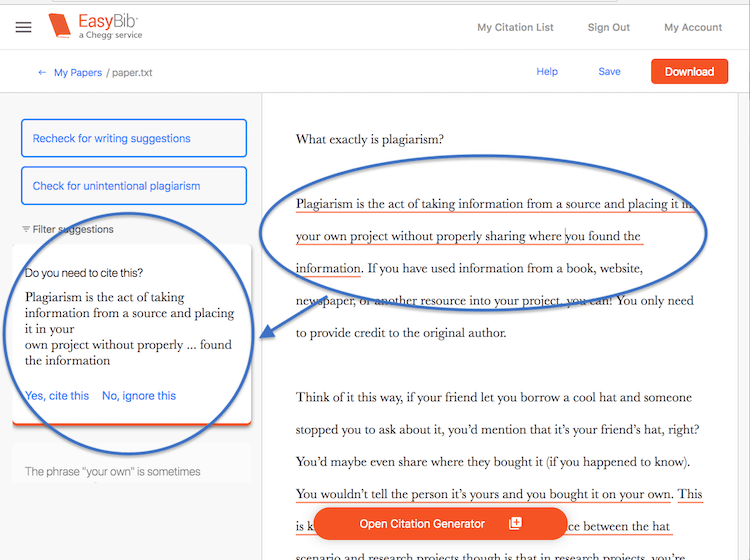 When you include a quote, excerpt, or idea from another's work, it's critical that you cite the original source. Citations not only give credit to the original author for their words and ideas, but they also provide teachers and other readers an easy avenue to do further reading on your topic.
You've put a great deal of work into writing your research paper already: searching for sources, completing your research, drafting, revising, editing, and proofreading. With the EasyBib Plus plagiarism checker, you can quickly check your paper for any passages or quotes that are missing citations.
If you turn up any additional citations that you need to add, our citation generator will help you quickly create an MLA Works Cited, or format MLA in-text citations for your paper. If your paper is in a style other than MLA format, you'll also find free resources for APA format and more styles.
You can also access our free citation guides to supplement your learning on a whole host of topics, such as: how to create an MLA citation for a website, compile an MLA annotated bibliography, or even learn how to cite a meme!
---

---
We are sorry that this post was not useful for you!
Let us improve this post!
Tell us how we can improve this post?