Hey EasyBib fans! We have exciting news to share. We've unveiled a new plagiarism and grammar checker just for students like you, plus updated our design to make citing even easier.
Run a Plagiarism and Grammar Check with EasyBib Plus
Now you can check your paper for unintentional plagiarism AND grammar errors without leaving EasyBib.com! Just copy and paste (or upload) your paper to EasyBib Plus's plagiarism and grammar checker to get automatic suggestions on grammar, spelling, writing style, and more. Yes, it's that simple! Also, in case you were wondering, your paper won't be shared publicly—you can write and revise without worry.
Check it out in action: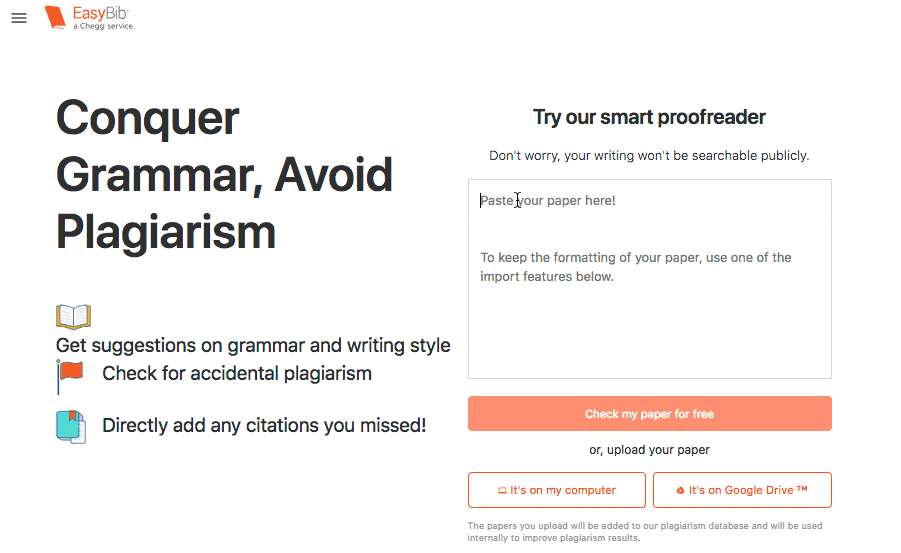 To start, EasyBib Plus's grammar checker will scan your paper for grammar and spelling errors, including incorrect punctuation, poor sentence structure, misspelled words, and misused verb tenses. It then offers automatic suggestions that you can accept or reject—you're in control! Each personalized suggestion is crafted to help you create a strong paper you can be proud of.
It's easy to forget to cite text when you're in a paper-writing frenzy. Never fear! The plagiarism checker will help sniff out questionable text before your teacher does. If it does find questionable text, it'll suggest a source from the internet for you to potentially cite.
Unsure how to make your citation? A subscription to EasyBib Plus also comes with access to premium citing features! Cite in MLA format, APA format, or one of thousands of styles available. There's also a tool for easily creating in-text citations. What more could you want? 
Working on a paper right now? Try EasyBib Plus's grammar checker today and get up to 5 FREE grammar suggestions. If you like it, you can choose to subscribe for unlimited grammar suggestions and plagiarism checks.
New EasyBib Design Helps You Cite
We've also improved the experience of using the EasyBib citation generator you know and love. Once you begin creating a citation, our new progress bar guides you through the development of your citation, allowing you to monitor where you are in the process. When you reach the citation form, there may be friendly, yellow stars next to certain form fields. These new star indicators mark any information you may be missing but are strongly encouraged to fill in, in order to help you create a more accurate citation.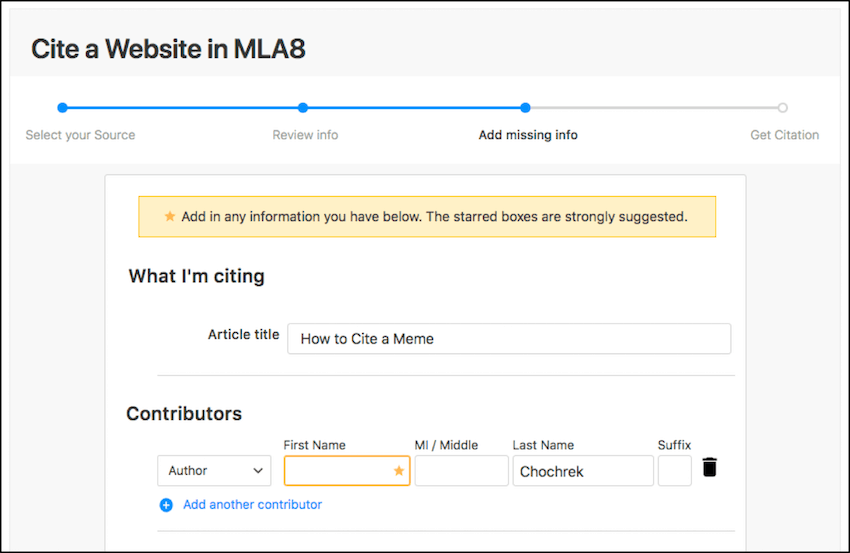 We've also made it easier to quickly find the source type you're citing, right from our homepage. You'll also find links to our comprehensive citation guides (on MLA, APA, and Chicago), blog posts, and other helpful resources.
Happy writing and citing from the EasyBib team!
We are sorry that this post was not useful for you!
Let us improve this post!
Tell us how we can improve this post?