I am an out-of-sync, eccentric, old soul and I love it. It gives me intense pleasure to know that I share this blessing with my artist of choice, my muse, my on-shuffle-24-7, Ms. Erykah Badu. She is known by many names but it is the moniker of Analog Girl in a Digital World that I identify with most. I AM an analog guy in a digital world. I am in love with the present and the prospects of the future. Technology makes me endlessly happy, but there are certain bits of the past that I cannot and will not ever give up. One of the many is writing long-hand, in cursive, with ink. Please and thank you.
Give me a fountain pen.  And not one of those lousy ballpoints.

– Helen Lawson, Valley of the Dolls
I was first informed of my aptitude for cursive at Boy Scouts in the 3rd grade. I was not a model scout. I never won the Pinewood Derby, could not care less about the sport aspect and absolutely hated being out in nature. But, I'll never forget the rainy day working on a cheesy writing prompt when Doug Patton and all the other scouts oohed and aahed over my cursive script. They chose me to be the recorder. This was the first time I ever felt truly 'good' at something. I'm sad to say there was not a cursive writing badge.
Aside from being skilled at writing in script, I truly believe in cursive. It deserves attention as something necessary and worthwhile by students and teachers. Consider these reasons for building time for cursive into (what I know to be already busy) schedules:
Primary Sources and Historical Documents

: The cursive words themselves have always been like a poem to me, in that they convey more than the concepts they symbolically represent. Yes, reading this script can be tedious, but writing it, I would imagine, was a rather laborious process in itself. Let us place ourselves in the shoes of the framers of our country and attempt to feel what they felt through careful and close reading of documents in their original form.
Occupational Benefits

: Some kids fail to develop good handwriting abilities due to joint hypermobility (low muscle tone) and poor fine motor coordination and hand strength.  Racheal Ojo, MS, OTR/L is a colleague with whom I collaborate regularly. "The skills that cursive handwriting further develops are visual-motor, eye-hand coordination, and fine motor skills." In her clinical opinion, cursive writing will benefit students with spatial difficulties build fine-motor skills, upper extremity strength, and place less of a demand on the mechanics of writing, due to the rhythmic-fluid strokes. Ms. Ojo feels that cursive writing incorporates these developmental skills and allows students to integrate these skills from parts into a single unit.
Increased Processing

:  In their article The Pen is Mightier Than the Keyboard:  Advantages of Longhand over Laptop Note Taking, Pam A. Mueller and Daniel M. Oppenheimer showed that students that take longhand notes and were able to study them performed significantly better on factual recall and conceptual application questions relative to students that take their notes on a laptop. Encoding information using longhand, it was found, aids in synthesizing and summarizing content.
Knowing the demands that my colleagues face while still wanting to speak to the benefits of cursive writing for the students, I decided to create an after-school club devoted to the beauty and appreciation of cursive.  Introducing (drumroll, please) Scripted: A Cursive Writing Club!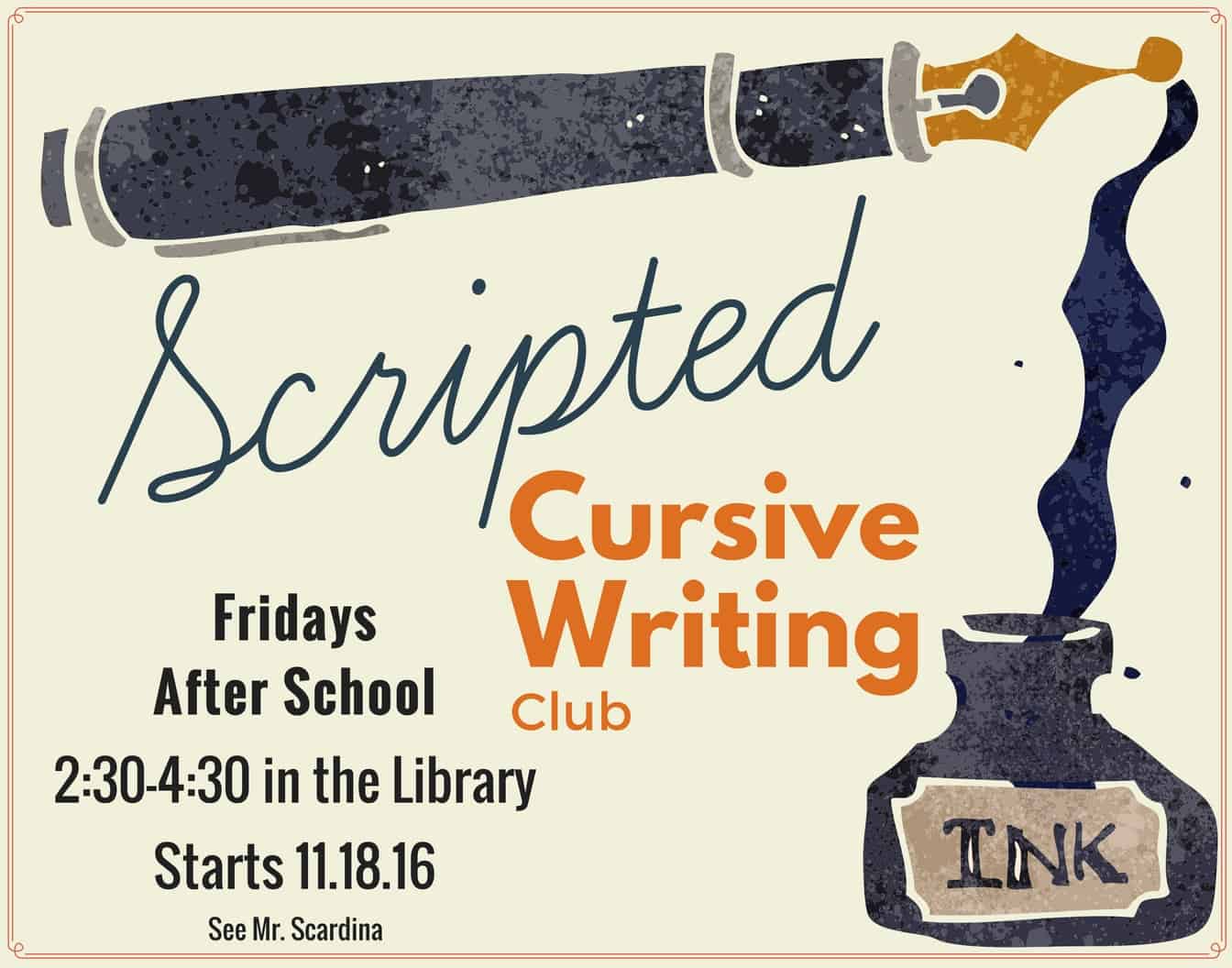 Scripted was a 10 week program that met on Friday afternoons in the library from 2:30 to 4:30 pm. There were 15 members in the club ranging from 3rd to 5th grade. The split was about 50% boys and girls. There really was no budget for this club. We used paper, pencils, pens, and plastic sleeves regularly, all of which we have stocked in the library.
The curriculum I used is called Handwriting Program for Cursive. It was written by Phyllis Bertin and Eileen Pearlman and distributed by Educational Publishing Service. I actually found a PDF of this 10 page curriculum on line, and I have to say it is fantastic. It highlights four basic principles for teaching cursive:
Handwriting is taught and practiced under the direct supervision of the teacher
The instructional sequence for teaching handwriting is to trace, copy, and write from memory
Motor patterns are always introduced through the large muscles of the arm and shoulder
Language is used to teach and reinforce handwriting
Letters are classified into 10 groups based on motor patterns. Four for lowercase and 6 uppercase groups. The groups have names like "clock climbers" (a, d, g, q, and c) and "tall kite strings" (G and S). Verbalized instructions for drawing each letter are provided and provide something of a "chant" for how to move one's hand to produce the letter. These verbal instructions were eventually memorized and were a lovely scaffold for the kids. To add a digital aspect to the curriculum, I curated a playlist on my YouTube channel of videos that support independent cursive study.
Since I envisioned Scripted as a social club, each session began with snacks and socializing for about 20 minutes. I allowed cell phones for this time to check in with parents, and to add to our school library's Snapchat account or share music and videos with one another.  Kids brought their own healthy snacks. Then we moved into hand/muscle exercises and stretching. I worked with Ms. Ojo in designing these activities to speak to the occupational aspects of cursive. The activities were snapping, finger push-ups, wrist rolls, paper tearing, clay manipulation and building with Legos.
The next phase of the session was the direct-teach of stroke formation and the chant to accompany the letter. This was done using an ELMO digital camera to provide a "bird's eye view" projected onto the Promethean Panel. Students then were called to "share the pen," to get a feel for the stroke before giving it a go on their own. Afterward, students returned to their tables for desk work of tracing the letters using a plastic page protector and dry-erase pen.  Students got to share their best work if they wanted using the projector.
The final 20 min after cleanup was devoted to poetry reading by me or the students and sometimes both. As stated above, I see parallels between cursive writing and poetry. I feel that they pair together nicely. Where poetry is beauty in language, cursive is beauty in writing.
The culminating event for Scripted was a gallery showing of favorite poems we read throughout the cycle copied in cursive on recycled paper. We used clips of construction paper we tore exercising our fingers to make mosaic tear-art creations to accompany the poems. We were going for a updated nod to the needlework sampler.
I am so completely blown away by the progress of these kids. The growth I saw in them not only as cursive writers but as human beings was inspiring and motivates me to continue this year after year. The success is humbling to me, actually. Students that some had given up on rose to the occasion and proved something to me but most importantly to themselves: That they were good at something. It is a feeling I have never forgotten, and I like to think that I provided something they will also never forget.
I suppose this is all coming full circle. When I began this club, I had no idea I was hot on the heels of the New York City Department of Education. Will Mantell, NYCDOE spokesperson says, "[the NYCDOE] is focused on providing schools with the best instructional resources, and we've already released two resources this year for schools to teach cursive and print handwriting." Teaching Cursive Writing and Teaching Manuscript Writing handbooks were produced for the 2016-17 school year as a tool for schools. These resources present best practices and strategies in writing instruction.
At this time, the NYCDOE is working with superintendents and school leaders on how to incorporate cursive and manuscript instruction. Although cursive instruction is not mandated, the release of these resources lets me know that I am not alone. It lets me know that Chancellor Fariña, the office of Curriculum and Instruction and I are on the same page. This gives me hope for the continuance and appreciation for cursive writing in our schools in this time of pending digital takeover.
The thought of tomorrow fills me with a mix of exhilaration and bewilderment. Exhilarated at the prospects of what it brings and bewildered by the rate at which our lives will undoubtedly change over many tomorrows. In this epoch of digital flashes, I fear we are losing sight of the analog mainstays that have stood the test of time.
There are many parts of myself that are new school, but so many more that are old school and I would not want it any other way. There is a lyric in On & On, where Erykah says that the man that knows something knows that he knows nothing at all. This old soul is holding fast to the knowledge that what I know today will be changed by tomorrow, but that is not going to change my psyche or my DNA and that is where my penchant for cursive and all those other analog cells reside. The same is true for my students and your students. We owe them the analog parts of ourselves so they can fully appreciate and diffuse them into an increasingly digital world.
We are sorry that this post was not useful for you!
Let us improve this post!
Tell us how we can improve this post?