When starting to find resources for your next project, smart searching tips (and creating citations ( usually in MLA style or APA style) as you research can save you time and effort in the end.
Searching online for a research project requires strategy. Typing a complete research question into the search bar could leave you with millions of results that may not match your information needs. There are better, more efficient ways to search online. Using keywords and subject headings can help.
Let's watch this short video for a quick overview:
The short video above gave us a good overview of what keywords and subject headings are and how they're beneficial during the research process (also, don't forget to make a works cited page as you research). Let's review what we learned in further detail.
Keywords: Definition
Keywords can be ideas, people, events, issues, general concepts or opinions that relate to the big picture of your search. Remember, keywords are exactly that: words. They can also be short concepts or phrases.
 Questions or full sentences are not effective keywords!
One way to focus your search is to develop a list of keywords. This is especially useful if you are planning to use popular search engines, which organize results by words found in the code and content of a website, not subject headings or controlled vocabularies.
Where To Start: Identify Main Words & Phrases
If you haven't already done this in presearch, the first thing we encourage you to do is to make a list of words or phrases that relate to the subject. These words will play a key role in helping you develop your keyword search.
For this example, our paper topic is:
What are the sleep habits of teenagers?
Identify the main words by pulling them out of your question.
For example, in the question "What are the sleep habits of teenagers?", the main words and phrases are:
Brainstorming Additional Words
Synonyms
Now think of some synonyms to the identified main words and phrases. For example:
Sleep Habits
Sleep pattern
Sleep customs
Slumber
Teenagers
Teens
Teenager
Adolescents
This is a good start, but check out a thesaurus or talk with your instructor or classmates to find other words you may not have thought of.
Related Keywords
In addition to the keywords above, you may also find related keywords. These are ideas that relate to your topic, but are not necessarily synonyms. Get as specific as you want and add them to your list. For example
Sleep Habits
Sleep pattern
Sleep customs
Slumber
Dreams
Sleep deprivation
Sleep disorders
Insomnia
Rapid-eye Movement
Teenagers
Teens
Teenager
Adolescents
Young adults
Youths
Exploring related keywords can help you get a better idea of what you want to search, and may help discover specific topics you will want to learn more about.
Subject Headings: Definition
One of the secret gems of library catalogs and databases is the inclusion of subject headings. A subject heading is a specific word or words that librarians use to describe what a source is about. They can also be called controlled vocabularies or descriptors. Whatever they are called, they help efficiently organize books, journals, articles, etc.
Subject Heading: How it Works
Doing a basic keyword search will bring back some results, but searching with subject headings will make your results a lot better.
When a database collects articles or a librarian adds a book to its collection, the item is cataloged by a number of different criteria. For instance, title, author, date published and so forth. In addition to this data, catalogers include subject headings to organize books into – you guessed it – different subjects.
If you were to catalog the book Teenage Sleeping Habits: Impact and Ways to Help Them Improve Them by subject, you might choose a keyword phrase like "Sleep deprivation." A psychologist may choose "Parenting — teenagers." A doctor may catalog it under "Adolescent health."
See where we are going with this? By using subject headings (a controlled vocabulary), there is a set, defined list of subjects that are used consistently. This means that when you are looking for sources on a particular subject, you can simply search your target subject heading(s) instead of trying several different keyword phrases.
Let's look at the catalog record for our example book.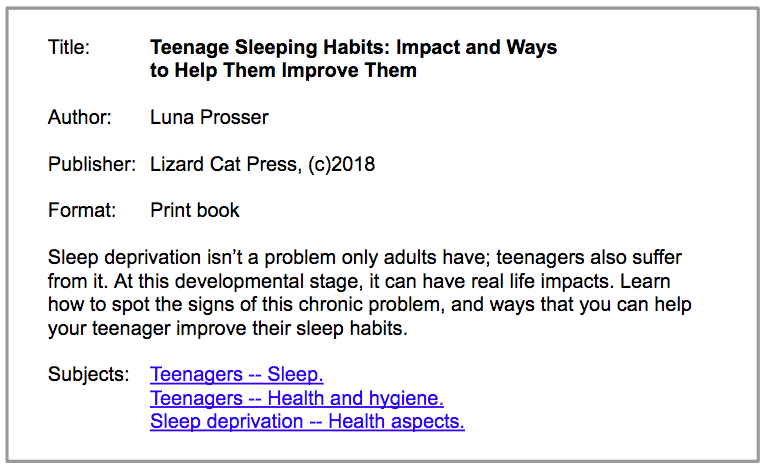 In this case, the cataloger chose to classify the book under these subject headings:
Teenagers — Sleep.
Teenagers — Health and hygiene.
Sleep deprivation — Health aspects.
I can use these subject headings as a way to discover other content that is related to my topic. Basically, if you find a resource that works well with your research, look to see what the subject headings are. Searching for these subject headings can help you find other appropriate sources.
Broader Terms
Exploring broader subject headings is another way to potentially locate new materials.
A subject heading like "Sleep" is very broad. Think of all the things that may be cataloged under sleep. For example:
Sleep deprivation
Dreams
Sleep apnea
Insomnia
Narcolepsy
Broader terms are useful if you are not sure where you want to go in your research, but because they bring back so many search results, it can also be easy to get overwhelmed.​
Narrower Terms
Exploring narrower subject headings can help you focus in on what you are looking for quickly, and can eliminate unnecessary results.
If you knew you were writing specifically about the sleeping habits of teenagers, you could search for just that subject heading. This would cut out unrelated topics that would have popped up had you just searched for "Sleep."
Narrower terms are useful if you know how to focus your topic, but they can also limit your results – if what you find is not helpful to your assignment, you might want to broaden your search a little more.
Apply It: Locate Subject Headings In WorldCat
But what if you do not have a book in mind? How would you find subject headings relating to your topic?
You can use WorldCat to find a book about your topic, select that book, and scroll down to the Subject Headings section or the Similar Items section. Here, you will find related subjects. Click on a subject that interests you to find more materials. Then, try to find it in your local library.
Apply It: Locate Subject Headings In a Catalog
You can search your library's catalog for the general topic and pick a book that seems relevant. Then, look for the subject heading in the item's record. You may need to view the full record in order to see this information – it could be labeled as Catalog Record or Item Record.
Need More Information?
Ask your librarian! They are experts on information and have lots of helpful tips and resources for you to use for free. They can also help you cite any information you find, whether that be in MLA format, APA format, or so forth. So don't be afraid to ask for help.
Remember to create citations for the sources you use in your research project. EasyBib.com creates your citations in MLA format quickly and easily. You can also create an annotated bibliography with our citation tools. Looking to create citations in APA or another style? Check out EasyBib Plus to cite in over 7,000 citation styles, create a Chicago in text citation, or generate another kind of in text citation.
We are sorry that this post was not useful for you!
Let us improve this post!
Tell us how we can improve this post?