We take summer vacation seriously! At EasyBib, our team has been hard at work improving the citation and writing tools that you know and love. Here are some of the exciting projects we worked on this summer that we can't wait to share with you!
Plagiarism Checking
Less time waiting, more time for yourself
When you've already spent hours writing a paper, you want to finish up as soon as possible. We know the feeling. That's why we've fine tuned our EasyBib Plus plagiarism checker so it's now three times faster than before! That means less time waiting, and more time sleeping, relaxing, or whatever it is you want to do.
A more comprehensive check for peace of mind
The plagiarism checker can now check your paper against billions of sources with technology similar to Turnitin! This helps us give your paper a more comprehensive check for accidental plagiarism, and means you can be more confident that you are handing in your most ethical work.
Coming to the Grammar Checker
Grammar checking make-over
There are awesome changes coming to the grammar checker this fall! We're completely revamping the design of our grammar check experience to make it even easier for you to navigate, review, and accept suggestions. Stay tuned!
Purdue OWL grammar knowledge
If you haven't heard, Chegg partnered with the smartest owl around: The Purdue OWL. They're helping us to revamp our grammar suggestions and make the experience better than ever! Be on the lookout for these enhancements.
If you're anxious to start learning the basics, check out the EasyBib grammar guides. 
Citation Tools
More than just a pretty page
When you visit EasyBib.com you'll notice that it looks and feels a little different—but in a positive way. Let us count the ways in which it's changed:
First, the EasyBib citation tool is now a single-page app! What's that, you ask?
It means that EasyBib has optimized its pages to help make it easier-than ever for you to use our citation tools and more efficiently create citations for a reference or MLA format works cited page.
Second, our homepage now offers students with two distinct paths: 1. Create citations or 2. Check your paper for grammar and plagiarism. No fuss, no confusing design.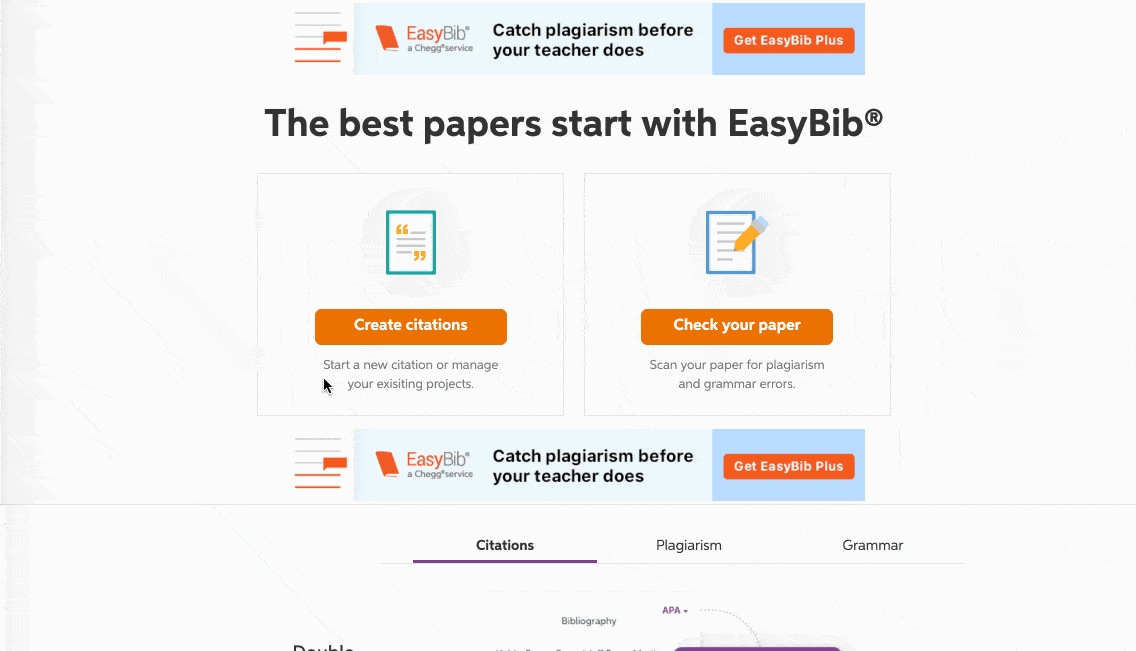 Finally, we've completely redesigned the "My Citation List" page, making it easier than ever to copy your citations, export them, and create more.
Improved APA citation accuracy
APA citation format is popular and, like all citation styles, has stringent rules. The details are important, so we've developed technology to help make our APA citation tools more accurate by improving the way the tool checks for correct capitalization! 
Excited? Visit the new citation creation experience today by going to //www.easybib.com/
Impressed? Have questions? Let us know how we did this summer by contacting us at //support.easybib.com. We'd love to hear from you!
Introducing EasyBib Topic Guides
It isn't every day that we get to introduce a completely new resource. Say hello to our EasyBib Topic guides! You'll find useful information on some of the most commonly researched historical figures like civil rights activist Martin Luther King Jr., inventor Albert Einstein, American writer Mark Twain, and more! Each guide comes complete with basic facts and interesting quotes to inspire even the most hardened writer. In fact, let's end with this Dr. Seuss quote to brighten your day:
 "Why fit in when you were born to stand out?"
We are sorry that this post was not useful for you!
Let us improve this post!
Tell us how we can improve this post?