We're proud to announce a new integration with JSTOR, one of the most well-known, online libraries of academic journals, books, and primary sources. With over 8,000 subscribing institutions, and close to 2,000 full-text journals found in their database, JSTOR is widely used by researchers, scholars, and students.
The new EasyBib citation tool in JSTOR makes it easier than ever for you to cite your sources. With just a few clicks, JSTOR users are able to directly export citations from any source found on JSTOR to EasyBib.com! It is that simple.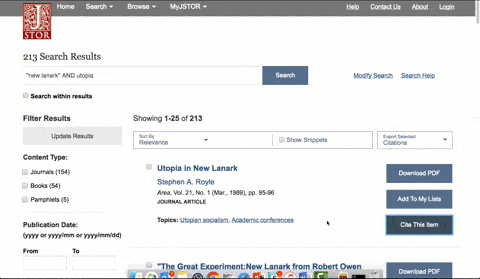 To use JSTOR's direct export feature, first search for the source you'd like to create a citation for. For each source found on the results page, there is a button to the right titled, "Cite This Item." Click this button and then choose, "Export to EasyBib." You'll also find the "Cite This Item" link on each source's individual page.
After clicking "Export to EasyBib," the next screen allows users to choose whether they'd like the information from the source to be exported with, or without, the abstract. After exporting, users can choose which citation style they'd like to format their citation in.
There are thousands of citation styles available through EasyBib citation tools, including MLA format, APA format, Chicago, and many more! As always, double check to make sure that the information you're including in your project matches the information that was exported from JSTOR.
Pretty simple, right? This new feature will allow you to add your JSTOR citations into your saved EasyBib projects. EasyBib citation tools also offer similar direct export features on many other databases including Gale, EBSCO, ProQuest, and ABC-CLIO. The direct export feature allows you to build, save, and share your research projects citations and bibliographies.
EasyBib, a Chegg service, provides intuitive citation and bibliography tools that help students cite and manage sources with ease. Since launching in 2001, students and educators around the world have created billions of citations using EasyBib tools, making the it one of the most popular and well-loved citation generation platforms in the world.
We are sorry that this post was not useful for you!
Let us improve this post!
Tell us how we can improve this post?