Library Edition
Library Edition represents a unique partnership with OCLC, giving students access to their library services right on EasyBib.
Why EasyBib Library Edition?
Over 24 million students use EasyBib in their research, more than any other service. It's very likely many of your students are already using our free edition.

By providing library services on a platform already part of a student's workflow, OCLC and EasyBib encourage increased utilization of library resources.

EasyBib is geared to the common undergraduate student who needs an intuitive solution to research management. Other citation tools may be a better fit for graduate students, whereas EasyBib works well for the rest of the student population.

Library Edition provides a school branded, ad-free experience and gives your students access to all our premium features to give them a rich research experience.
Library integration & customization
Features:
School branding
Collection search
Virtual reference
Links & information
Library Edition schools get custom branding with the ability to add school logos and colors, promoting student awareness and familiarity.
Students can easily search a library's collections through embedded search widgets.
Students can access virtual reference and Question Point services.
Libraries can easily add links and other helpful information for students.
Improving critical thinking skills and research habits
EasyBib Library Edition comes with Notebook, a tool that lets students organize notes, build outlines, and link their ideas, evidence, and sources together.
Notebook: Research management made easy
Features:
Virtual notecards
Cornell note-taking
Dynamic outlining
Students can use virtual notecards to organize and group their notes together.
In addition to notecards, students can view their notes as a list, inspired by the Cornell note-taking system.
Students can organize their thoughts using our outline tool, and drag and drop notes into it to tie their ideas and supporting evidence together.
Teaching effective plagiarism prevention
By making the citation process intuitive, EasyBib encourages students to cite while they write properly documenting their sources and thus helping prevent plagiarism.
With Library Edition, students get access to more features in EasyBib's popular bibliography tool. Instead of just citing in MLA style, students can format in APA & Chicago, get in-line formatting, and import citations from anywhere.
Fully formatted APA, MLA and Chicago/Turabian bibliographies
Examples:
APA
MLA
Chicago/Turabian
Finished Bibliography
APA-styled citations (6th edition, the latest):
MLA-styled citations (7th edition, the latest):
Chicago/Turabian-styled citations (16th edition, the latest):
When a student is finished with their bibliography, they have the option to download their citations in
RTF format (for MS Word)
, or they can save it as a
Google Doc
.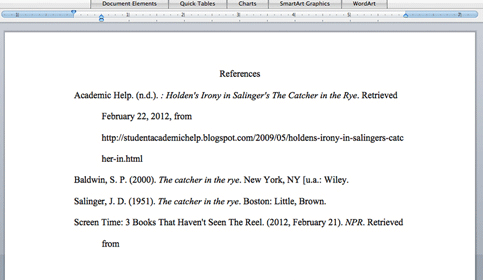 Inline citation formatting
Examples:
In-text
Footnotes
Parenthetical Citation Wizard
Our parenthetical citation wizard lets students put in the exact page number they are citing, and creates an instant citation for them.
Footnote Citation Wizard
Our footnotes wizard lets students input the specific page they are citing, and formats their footnote or endnote on the fly.
Add citations instantly, from anywhere
Features:
Autocite instantly
Upload from databases
Format any source
Cite a book by title or ISBN number, cite a journal by title or DOI number, or cite a web site by title or URL. Students can autocite millions of sources just by searching!
If students frequently use electronic databases like JSTOR or EBSCO, they can export their citations from them and import the citations into your MyBib Pro project easily. EasyBib supports the EndNote and BibTex file formats.
Since students can cite up to 58 sources on EasyBib - almost anything - they are encouraged to explore a diverse set of resources in their research.
Improves information literacy skills
Navigating and evaluating online sources
Our website evaluation tools cultivate critical thinking skills, helping students learn how to distinguish between sources that are credible from ones that are not.
Features
Website credibility
Evaluation criteria
Credibility guides
We've thoroughly reviewed thousands of the most cited sources on EasyBib, analyzing them through various criteria, like authorship, currency, bias, institutional association, and more.
Students can learn more about each evaluated source and can understand the criteria they should use to do their own evaluations.
Students have access to our credibility guides, showing them how to distinguish between credible and non-credible sources.
A true teaching tool
Our help tools give students the skills to understand sources and properly cite them.
Features:
Bibliography Analytics
Learn & Cite
Source Guide
Visual eBook
We help students evaluate the quality of their bibliography according several criteria, including source diversity, database usage, and Web site credibility.
Every field on EasyBib's citation forms includes detailed help. Students learn what to include in each field, how to capitalize, and why each element is important. Learn & Cite shows the citation being created as information is entered into the data fields.
One of the major issues students have is trying to figure out which source type to use to format their citations. With EasyBib's comprehensive source guide, a student can walk through, in a step-by-step way, the different kinds of source types their source might be.
For students who are unsure where to find bibliographical elements in their sources, we have created our visual
eBook
. The eBook adds a new educational dimension to EasyBib by illustrating where different data elements are found and formatted in a citation.
Simple student signup
EasyBib Library Edition offers IP authentication that lets schools provide premium services to their students automatically and transparently.
For schools that do not want IP authentication, we can provide a coupon code that is valid for a specific number of licenses. Students create their accounts and when they apply this code they will get premium features.
To login, students can also use their Google, Facebook, Yahoo, or AOL accounts. EasyBib now also works with Google Apps.
EasyBib also provides an administrator dashboard to view student emails and update student passwords.
Advertisement-free experience
As a paying customer, students at your school will receive an ad-free experience. EasyBib pages load faster so they can get their work done quickly and efficiently.